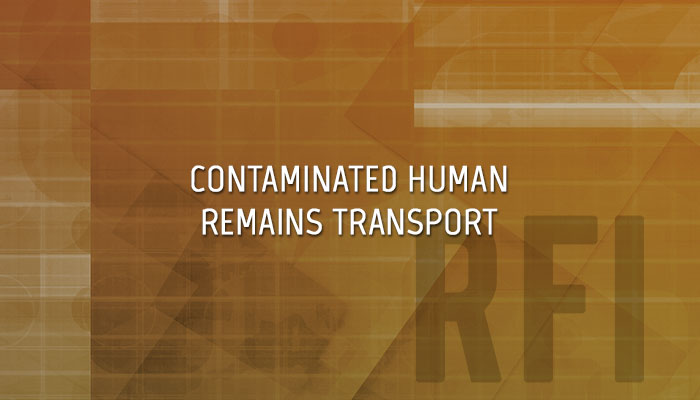 The Department of Defense is collecting information on U.S. domestic sources who are currently researching, developing or manufacturing hazardous waste containment and transport systems.
The effort is overseen by the Joint Project Manager – Protection (JPM-P), under the Joint Program Executive Office – Chemical and Biological Defense (JPEO-CBD), working in coordination with Research Development Engineering Command, Edgewood Chemical Biological Center, Industrial Base Office (RDECOM-ECBC-IB).
JPM-P and ECBC-IB are looking for commercially available Contaminated Human Remains Transport (CHRT) case or capability to develop a CHRT that meets 49 CFR and United Nations (UN) Hazardous and Infectious Substance Transportation Regulations.
See also: RES/CON 2016
Contaminated Human Remains can be infected by biological substances, chemical, and/or radiological warfare agents. The design configuration can contain multiple layers, whereas the system it has to meet specified parameters such as no leak, puncture, drop, pressure and other. The system should have ability be transported by air.
The order of criticality for hazardous substance leak proof/material corrosion resistance containment are as follows:
Biological Infectious Substances and Biological Warfare (BW)
Chemical Warfare Agents (CWA)
Toxic Industrial Materials (TIM)
Radiological
Further details are available via Solicitation Number: W52P1J-16-T-PP99. The response deadline is February 15, 2016.