This U.S. Army has issued a Request for Information (RFI) to find sources capable of fulfilling a services contract to provide Military Occupation Specialties Improvement Training (MOSIT).
The contractor shall be responsible for providing personnel, management, and any other items and services necessary to conduct Troop Schools for the following classes:
Ammunition Handlers Course
Chemical, Biological, Radiological, Nuclear Defense (CBRN-D) Course
GCSS-A PBO, Generator Operator Course (GOC)
Fuel Handler Course (FHC)
GCSS-A Unit Supply
GCSS-A Plant Maintenance/Supervisor
GCSS-A Warehouse Operations
GCSS-Maintenance Equip/Records Parts
GCSS-A Master Driver
GCSS-A Material and Execution MNGMNT
Company Commander's / First Sergeant's Pre-Command Course
Field Grade / Sergeant's Major Course, Command Select Leader's Orientation Course (CSL)
Digital Training Management System (DTMS) User
Digital Training Management System (DTMS) Master Trainer
Master Drivers Course
Unit Movement Officer (UMO) Course
Bus Drivers Course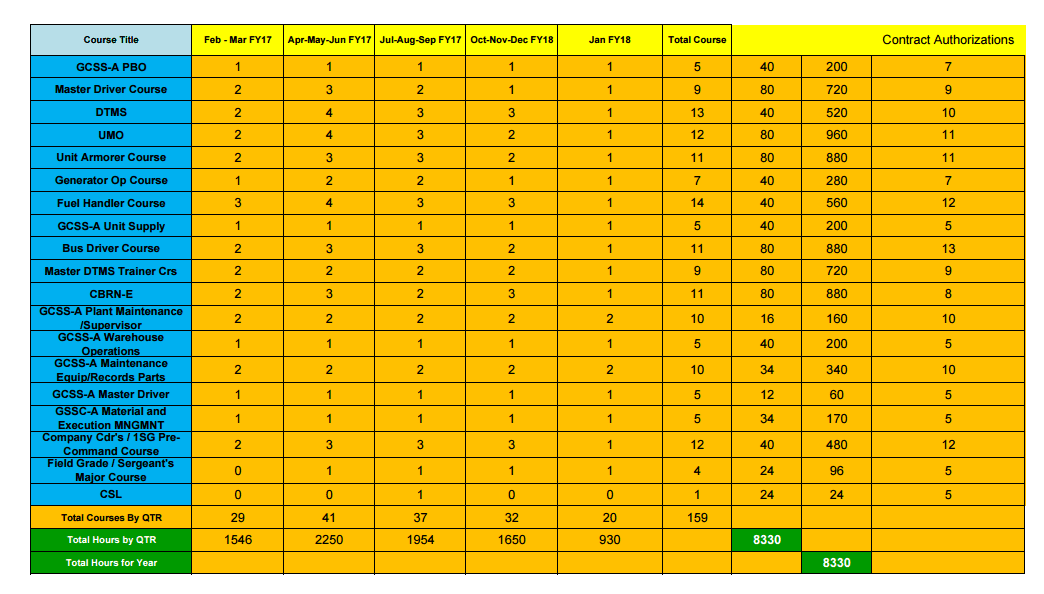 Additional courses maybe authorized upon approval to enhance Military Occupational Specialty (MOS) skills.
Organizations interested in providing information in response to this sources sought are requested to provide capability statements. Further details are available via Solicitation Number: W911SG-17-X-0017.