How do emergency responders react if a disgruntled former employee and two other unidentified subjects come on site, kill people, and take others hostage? That was the scenario used to test emergency responders during a recent exercise hosted by the Alameda County Sheriff's Office at Sandia National Laboratories/California.
Urban Shield 2016 consisted of 48-hour training exercise involved local, national, and international first responder agencies. Participants included the Alameda County Sheriff's Department, Livermore Police Department, Pleasanton Police Department, Urban Area Security Initiative, 32 Bay Area SWAT teams, Mexican Federal SWAT team, a SWAT team from Taiwan, and a Las Vegas Metropolitan Police Department Tactical team.
The exercise tested Sandia's emergency response organization's liaison and coordination capability with local law enforcement during an active shooter barricade situation. To ensure that the event met the standardized unified response, the exercise was managed with the National Incident Management System and the Standardized Emergency Management System.
The exercise was intended to ensure that external response partners can readily react to possible threats as required and that Sandia's emergency response organization can effectively engage with offsite responders.
John Norden, emergency management coordinator at Sandia/California, says some 20 Sandia personnel participated in the event including representatives from the site's Security Operations, Protective Force, Central Alarm Station, and Emergency Management.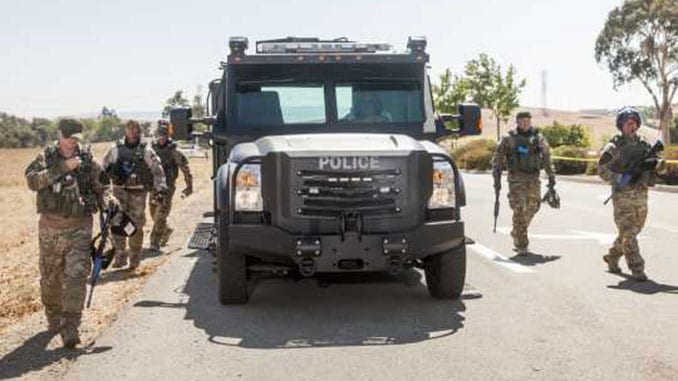 "Hosting the event at Sandia provided a great chance to open the lines of communication between the site and the Livermore Police Department. As one officer stated it 'took the mystique out of the Sandia facility,' meaning they have a better understanding of what we do," Norden said.
Throughout the exercise, teams were confronted with events averaging one hour or more in duration and designed to test their training, preparation, and decision-making skills. Teams used technology provided to them during the scenarios. After each scenario, the teams provided feedback concerning the resources and technology used and discussed ways to better prepare for emergencies.
"The event allowed participating agencies a practical opportunity to evaluate their tactical team's level of preparedness and ability to perform a variety of intricate first responder operations," Norden said. "Each agency also evaluated their own tactical capabilities while training with other entities."
Article and images courtesy of Sandia National Laboratories and the National Nuclear Security Administration, edited for context and format by CBRNE Central.