The Joint Program Executive Office for Chemical and Biological Defense (JPEO-CBD) is requesting information from industry on potential candidate technologies for the Joint CBRNE Advanced Capability Sets (JCACS) Advanced Technology Demonstration (ATD).
The objective of the JCACS ATD is to provide the DoD with an enhanced and integrated CBRNE capability to execute mission command and conduct operations to counter the range of complex CBRNE threats.
The ATD will select, integrate, and demonstrate mature technologies (Technology Readiness Level (TRL) greater than or equal to 6) based on their ability to address identified focus areas including:
Respiratory, ocular, and percutaneous protection
Physiological monitoring
Reduction of thermal burden
Decontamination
Personal and environmental dosimeters, detectors, and identifiers
Explosive Ordnance Disposal detection and characterization
Sample management and Laboratory Information Management System (LIMS)
Multi-echelon integrated command, control and communications
Integrated CBRNE C2 systems
Integration of communications and personal protective equipment
Warning and reporting
Sensor integration
Decision management and analysis
Physiological monitor reporting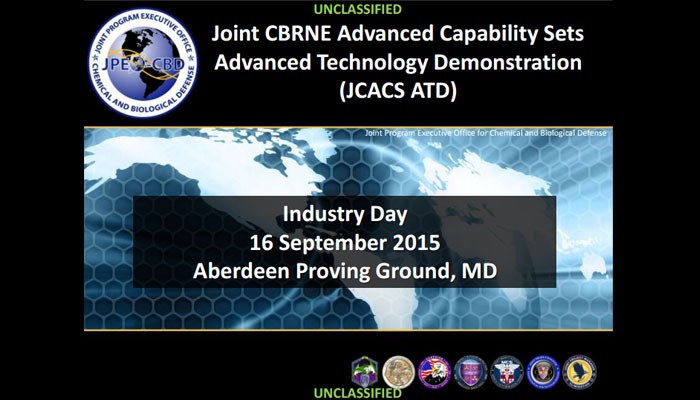 The JPEO-CBD will host an Industry Day on 16 September 2015 at Aberdeen Proving Ground (Edgewood Area), Maryland. A question and answer forum will be conducted after the government presentations. For those individuals unable to attend the briefing, the presented material will also be available online.
Further details are available via Solicitation Number: W911SR-15-JCACS-ATD.