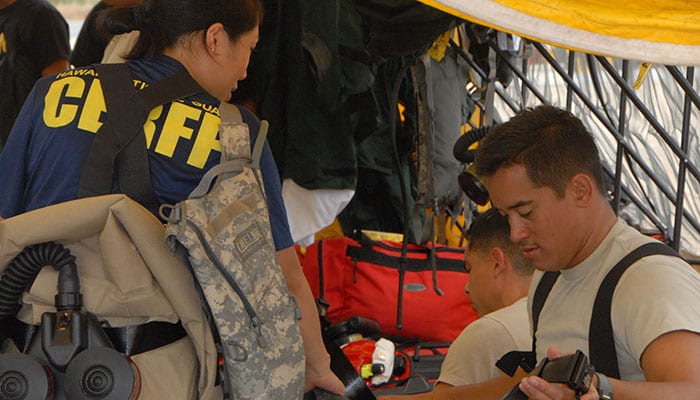 Hawaii Air National Guard (HIANG) members practiced their skills during a Collective Training Exercise (CTE) at Kalaeloa, Hawaii, Mar. 23, 2016.
The exercise was designed to allow the newly formed Detachment 1 Headquarters 154th Medical to test capabilities as part of the Hawaii National Guard's Chemical, Biological, Radiological, Nuclear and Explosive Enhanced Response Force Package [CERF-P].
This was the first CTE for the HIANG medical unit since being officially stood up in November 2015.
"The standing up of the new unit is part of the Air National Guard Surgeon General initiative to refit the homeland defense mission it undertook in response to the global war on terrorism." said U.S. Air Force Lt. Col. James Faumuina, Det 1 HQ 154 MDG interim commander. "17 teams throughout the country were originally dual tasked with the CERF-P medical mission."
Under that dual tasking, the CERF-P medical mission in Hawaii was originally carried out by the HIANG's 154th Medical Group; in addition to the CERF-P mission it was tasked with supporting more than 2500 HIANG members and ensuring that its more than 400 flying class personnel remain medically current.
The development of the ANG CERF-P mission required independent units devoted solely to the CERF-P mission. As a result 10 new CERF-P medical teams were added and the 17 original teams were stood up as independent units.
"It became evident that to conduct this mission it cannot be a dual tasking and it has to be dedicated with 24/7 response capabilities." said Faumuina.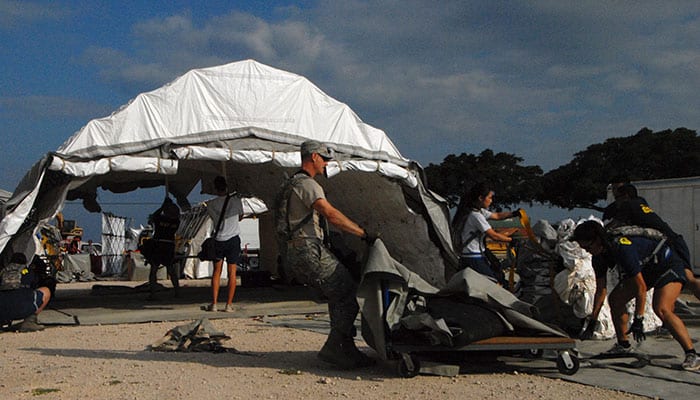 Core functions of the new unit are to provide search and rescue medical response, trauma treatment, and incident triage support. Many of the Guardsmen in the new unit come from civilian medical or first responder professions.
"As it turns out having a Defense Support to Civilian Authority mission like CERF-P requires the military members to have mirror civilian responder qualifications" said Faumuina.
Essentially the exercise involved the collective CERF-P entity responding to a simulated chemical disaster; Hawaii Army National Guard Search and Rescue and Decon teams worked in concert with HIANG communication, casualty support and medical units.
Airman First Class Jonathan Rodriguez assigned to Det 1 HQ 154 MDG search and rescue, a federal fire fighter on the civilian side said the exercise was a good way to improve his skills sets for use in both military and civilian sides of the spectrum.
"It fit right up my alley as far as my profession on the civilian side." Rodriguez said. "It's going to better enhance my future on my civilian sector and enhance what I'm able to bring to the HIANG team."
For Faumuina, the exercise was also an excellent way for his Airmen to experience working in a joint environment.
"You get a chance to experience how the Army does business and the Army gets to experience how we do business and although it's different, we all work towards one common goal which is to accomplish the mission." said Faumuina.
Article adapted from original by Orlando Corpuz, 154th Wing Public Affairs.