More than 30 local, state and federal explosive detection canine teams took part in specialized training this month at Marine Corps Base Camp Pendleton, hosted in conjunction with the Bureau of Alcohol, Tobacco, Firearms and Explosives.
The training gave participants the opportunity to take the ATF-administered National Odor Recognition Test, or NORT, a voluntary test used to evaluate a canine team's ability to detect 10 fundamental explosive odors. NORT has been administered to over 2,000 canine teams since September 2005 and is recognized as the standard for canine explosives detection.
In addition to the testing and ability to network and discuss tricks of the trade, the training gave handlers the chance to ask questions of ATF canine and explosives subject matter experts.
"They're coming here and they're learning new explosives, something they've never had," said Cody Monday, a former Marine Corps Canine Handler and ATF Lead Instructor. "We bring commercial explosives, military explosives and our chemists make homemade explosives."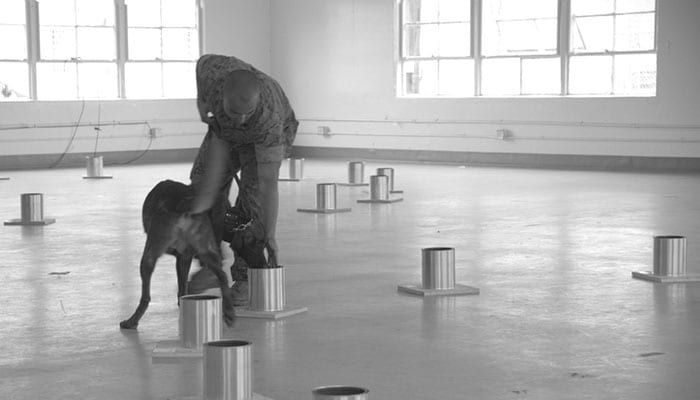 This is Camp Pendleton's second time hosting NORT, which is carried out about 12 times a year at different locations across the country.
"Since we've been participating with the Marine Corps over the last few years the dogs have just been getting better and better," said Monday. "It's amazing."
The ATF National Canine Division (NCD) trains explosives and accelerant detection canines for federal, state, local and international law enforcement and fire investigation agencies. ATF is a leading source of specially trained explosives and accelerant detection canine teams. Once trained, canine teams are assigned to local, state and other federal law enforcement agencies, as well as selected foreign countries, and regularly lend support to investigations and security efforts.
ATF is a principal law enforcement agency within the U.S. Department of Justice (DOJ) dedicated to reducing violent crime, preventing terrorism, and protecting our nation. ATF is committed to working to investigate and reduce crime involving firearms, explosives and acts of arson.