Environmental Control System purges chemical weapons particle simulant from aircraft interior.
The Air Force Research Laboratory's 711th Human Performance Wing and the 28th Test and Evaluation Squadron executed an in-flight vapor purge test in a F-15E Strike Eagle, Aug. 16-19, 2022.
This test is part of a larger Department of Defense effort to evaluate cockpit environmental conditions after a chemical weapon attack. This F-15E test is one of many evaluations set to be conducted across multiple DoD airframe platforms over the next few years.
"In order to develop the next generation of aircrew protective equipment we need to determine what level of protection aircrew members need," said Joel Huddleston, 28th TES deputy division chief. "By aggregating this data, we will be able to specialize the suits and ensure the warfighter is unencumbered."
Similar to the C-130J Super Hercules vapor purge test that took place in 2020, analysts sprayed liquid methyl salicylate, also known as oil of wintergreen, into the idling jet prior to taxi. Engine heat then vaporized the liquid, allowing the chemical vapor to flow into the cockpit and expose the aircrew member.
Once airborne, the aircraft purges itself through the Environmental Control System, allowing aircrew members to remove their chemical/biological protective ensembles and respirators to complete the mission. An integrated test team goal during this event was to determine how long it takes for the purge to complete.
"Each aircraft is different in size and air capacity, which contributes to how quickly the chemical is purged from the aircraft," said First Lieutenant Andrew DeNicola, 28th TES test engineer. "Even a small change in aircrew dexterity can affect how the plane flies or type of mission they can accomplish, so if we can minimize the time frame a member has to wear their protective gear it will improve operational Tactics, Techniques, and Procedures."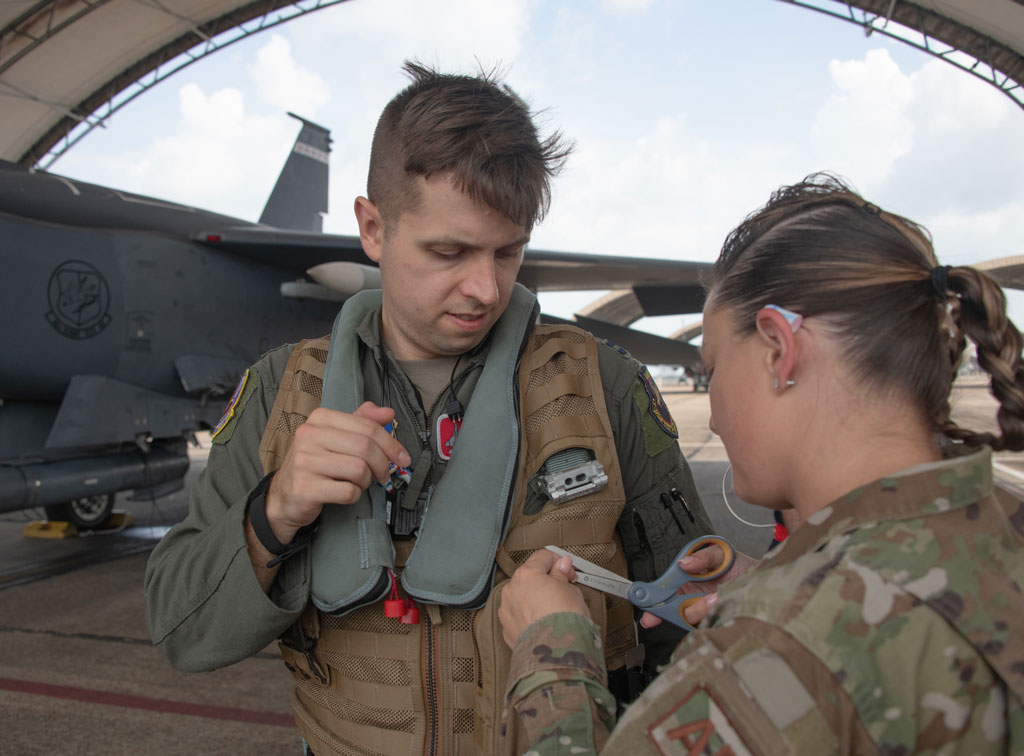 Chemical, biological, radiological, and nuclear (CBRN) analysts from 711 HPW Airman Systems Directorate at Wright-Patterson Air Force Base, Ohio, conducted the test by providing equipment, developing testing methodology, and interpreting the results.
"The data helps us understand what goes on inside the aircraft when operating after a chemical weapon attack and flying in a contaminated environment," said William Greer, senior CBRN analyst from the 711 HPW. "What we learn ultimately helps inform aircraft design teams on opportunities to enhance aircraft environments and, along with better aircrew equipment, enable aircrew to more execute their missions more effectively in a chemical threat environment."

Another program element that is separate from aircraft testing involves the Man-In-Simulant Testing (MIST) on current aircrew flight equipment. This specialized testing takes place at the Dynamic Entry and Exit Test Module (DEETM) facility located at Eglin Air Force Base. The intent of MIST is to expose aircrew chemical ensembles to a variety of chemical simulants to determine the locations of any leaks and identify "hot spots."
Combining this information with the flight data paints a more accurate picture of the chemical challenges aircrew members face, ultimately leading to improved protective measures.
"We are putting our foot in a field of relevant data that has never been explored," said Huddleston. "The payoff is better equipping our Airmen in both protection and capability. This will no doubt improve our ability to fight in a wide range of conditions."
The test event was led by a collaborative effort between the 53rd Wing, the 96th Test Wing, AFRL, and the Joint Program Executive Office for Chemical, Biological, Radiological, and Nuclear Defense (JPEO-CBRND).