For the past eight years, scientists Greg Peterson and Jared DeCoste from Edgewood Biological Chemical Center (ECBC) have been steadily refining and improving a recently developed class of chemical compounds known as metal-organic frameworks (MOFs).
Chemists custom-make MOFs in the laboratory using organic struts and metallic nodes, much like an erector set, creating void spaces for chemical warfare agent (CWA) molecules to enter. Once there, they are trapped. However, the MOFs eventually reach their saturation point and stop working, and the sheer volume of MOF material needed for protection limits the ways it can be used in the field.
Recently, Peterson, DeCoste and their research partners at Northwestern University achieved a major breakthrough by creating a new kind of MOF that doesn't just trap the CWA molecules, but breaks their bonds on contact.
With the addition of water to flush the MOFs out, these MOFs can keep on working. Because of that, this new MOF neutralizes agent eighty times faster than the current version.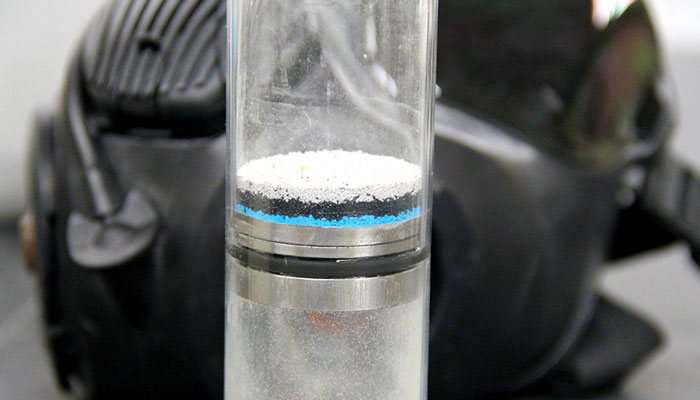 Known as NU-1000, the MOF additionally remains stable for years at both extremely high and extremely low temperatures, and is able to take the water needed to conduct CWA neutralization out of the atmosphere.
These qualities make it much more effective when used in filters for protective masks and building filters, and as a decontamination material.
More importantly, this is the first step to having a MOF that is robust enough to embed in fibers, which can transform a tent or head scarf into personal protective equipment. This is a potential game changer in the nation's efforts to establish stability in volatile Middle East countries that have suffered CWA attacks such as Syria and Iraq.
Peterson even foresees growing them on the fibers, among a host of new possibilities. "NU-1000 can ultimately be used as decontamination powders and wipes, and detectors in the form of strips that change color in the presence of CWA," said Peterson.
Editor also recommends: