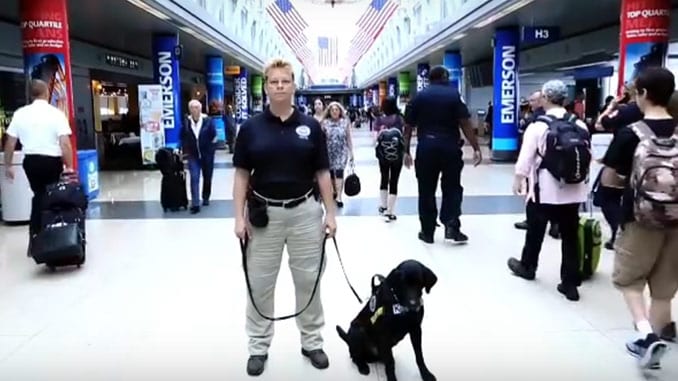 Article by Lori Potoczek, TSA
I've been working as an explosives detection canine handler at the Chicago O'Hare International Airport (ORD) since 2010. My canine partner is Doc. He's a male black Labrador and is 5 years old. He's also a former Marine!
It's a blast getting to work with him every day. There isn't a day that goes by when he isn't excited to come to work. I have to say that his excitement is contagious. It gets me even more excited when I see his energy. So as you would imagine, we work really well together.
Canines like Doc bring an exceptional capability to the screening process. There isn't a machine that can duplicate what he and I can do together. We're mobile and responsive and that nose of his can't be beat. Think of it this way. When your mom is cooking soup and you come home – what do you smell? You smell soup. The dog smells the salt and pepper in the broth. He smells the carrots, the chicken and every other ingredient in the soup. That sensitive nose can smell more than delicious food though. It can also detect the materials that make up explosives.
TSA K-9's undergo extensive training at the Lackland Air force base in San Antonio, TX, before being assigned to a permanent partner. Once that happens, the K-9s live with their handlers as part of their families. The handlers and dogs must develop a strong bond of trust and knowledge of each other to help handlers identify those subtle nuances their partner may exhibit when doing a search. My partnership with Doc has truly given me a worthy partner and a best friend. I spend more time with Doc than anyone else in my life. We work together, live together, and even go on vacation together!
It's an honor to be a K-9 handler with Doc. Our mission makes a difference every single day. Most people don't realize that without our efforts, multiple things would come to a halt at the airports and transportation systems across the nation. While extremely cute, our partner's noses are also an extremely important tool in the fight against terrorism.
Article courtesy of the Department of Homeland Security