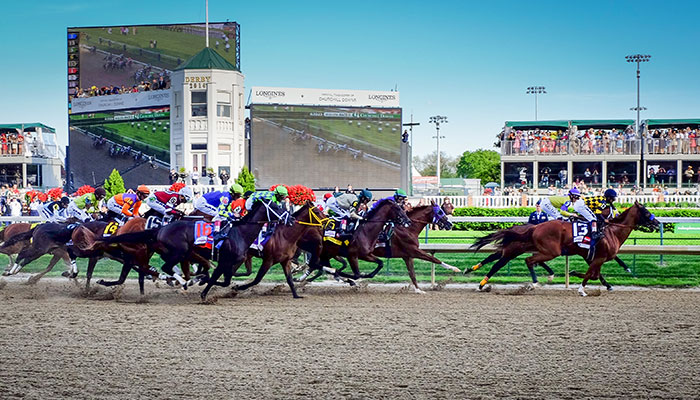 In the shadow of the iconic twin spires, the Kentucky National Guard's 41st Civil Support Team helped ensure the safety of the Derby crowd at Churchill Downs for the 141st Run for the Roses. Thirteen years of Derby support has taught CST members one thing: this is a joint effort.
"Derby support is a complete team effort," said Maj. Kris Morlen, 41st CST commander. "Local law enforcement, hazardous material specialists, medical and 41st CST members come together for large events to comprise, what has come to be known as, the Joint Emergency Services Unit. (JESU)"
According to Morlen, members of JESU patrol the grounds in small, four to five-person Joint Hazardous Assessment Teams to look for signs and symptoms associated with chemical, biological, radiological and nuclear (CBRN) material exposure.
They use an array of devices that scan for radioactive isotopes, elevated levels of carbon dioxide, ammonium nitrate, neutrons and other potentially harmful elements.
"We respond to reports of suspicious or abandoned packages when the Louisville Metro Police Department directs us to provide security and support to the Hazardous Device Technicians assigned to investigate those items," said Morlen.
Maj. Jason Finley, medical operations officer with the 41st, said having a group of individuals from various agencies, working together, makes the mission that much easier to accomplish.
"Everyone on the JESU team is on the same page when it comes to Hazmat," said Finley. "It's an advantage for the agency, and helps the incident commander have better oversight of the situation."
The incident commander is responsible for all JESU operations in a given area.
"We're all members of the responder community," said Air Force Master Sgt. Scott Terrill, 41st survey team noncommissioned officer in charge. "In this setting you have people who specialize in Hazmat to deal with CBRN threats, law enforcement to set up perimeters and secure a scene, and medical personnel in case of mass casualty incidents."
In order to be as effective as possible, members of the 41st develop strong relationships with the agencies they work with to provide the highest quality support.
"Our role as a supporting agency doesn't start or end at a CBRN response site," said Capt. Stephen Smith, operations officer with the 41st. "We strive to continuously provide training throughout the year in order to educate the first responder community on who we are and the services we can provide to an incident site."
Despite having only 21 Guardsmen assigned to the unit, the 41st provides emergency managers with a large amount of unique assets in a WMD and CBRN response situation.
"On the 41st, we are either responding to a WMD and other hazard incidents, training to respond, or training others to respond," said Maj. Ricky Grant, nuclear medical science officer with the 41st. "We are force maximizers."
Article by David Bolton, 133rd Mobile Public Affairs Detachment, adapted for context and format by CBRNe Central.