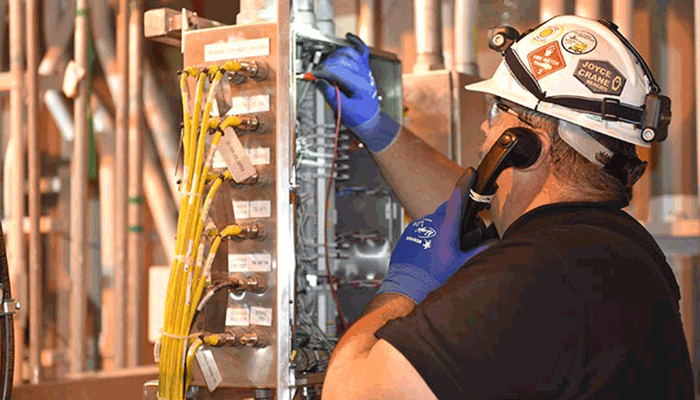 Members of the Blue Grass Chemical Agent-Destruction Pilot Plant (BGCAPP) start-up team are performing pre-commissioning and commissioning activities on equipment in preparation for operations.
"Pre-commissioning includes electrical continuity checks, run-in and vibration checks for larger motors and testing associated with powering electrical distribution equipment for the first time," said Steve Mantooth, Army mechanical engineer, BGCAPP.
Completion of pre-commissioning ensures equipment and instruments can safely be energized as well as verifies functional operation of rotating equipment such as pumps and blowers, said Mantooth.
Commissioning activities involve the calibration and testing of instrumentation and verification of hardware and software interfaces and the operation of alarms, said Dave Lee, start-up supervisor, AECOM.
"We will be testing signals and getting verification from the Control Room (CON) operators that they are able to control and actuate equipment," said Lee. "We communicate very closely with the CON from the field during this time."
Pre-commissioning and commissioning activities are essential to ready the equipment for operations, said Mantooth. The next step for the facility following these activities is the start-up sub phase. This involves an integrated testing and demonstration phase prior to the formal turn-over of plant systems from the start-up team to the operations department. BGCAPP main plant operations are currently scheduled to begin in 2020.