Specialized teams from 20th CBRNE Command (Chemical, Biological, Radio-logical, Nuclear, Explosives) routinely train with joint, inter-agency and allied organizations.
The 20th CBRNE Command's CBRNE Response Teams, known as CRTs, participate in exercises around the world to hone their life-saving and mission-enabling skills.
Each CRT is capable of tackling a variety of challenging missions, including initial sampling, limited decontamination, packaging, escorting, detection, munitions assessment, explosive threat mitigation and contaminated sensitive site exploitation.
CBRNE Response Team 1 from the Aberdeen Proving Ground, Maryland-based 22nd Chemical Battalion's 64th Chemical Company recently trained with the Federal Bureau of Investigations or FBI.
"The exercise was heavily focused on forensic procedures and evidence collection," said CRT 1 Team Leader Capt. Matthew R. Reinstein.
"The exercise improved our soldier's understanding of the importance of evidence chain of custody," said Reinstein, an Afghanistan veteran from Hot Springs, Arkansas.
One of two technical escort battalions in the U.S. Army, the 22nd Chemical Battalion operates 12 CRTs.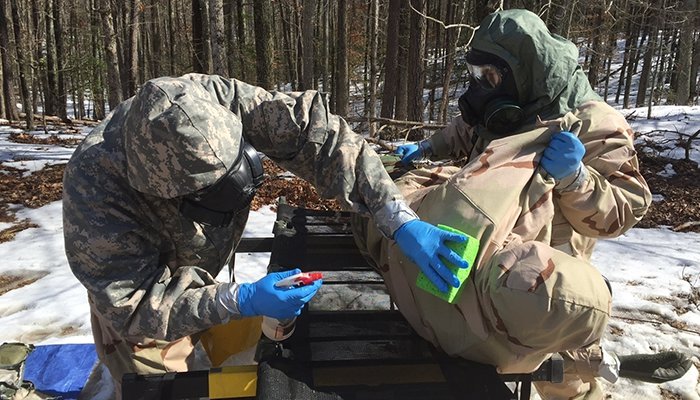 The 22nd Chemical Battalion is part of the 48th Chemical Brigade, 20th CBRNE Command. Headquartered on Aberdeen Proving Ground with soldiers and civilians stationed on 19 posts in 16 states, 20th CBRNE Command is the Defense Department's only multi-functional formation that combats CBRNE threats around the globe.
Maj. Vance M. Brunner, the 22nd Chemical Battalion operations officer, said CRTs provide critical capabilities for combating CBRNE threats on the modern battlefield.
"The teams are Army's premier force for CBRNE exploitation and assessment," said Maj. Vance M. Brunner, a native of Kailua, Hawaii, who deployed to Iraq and Afghanistan. "There are no CBRNE targets that these teams cannot exploit and assess."
Article by Walter Ham, 20th CBRNE Command, edited for context and format.