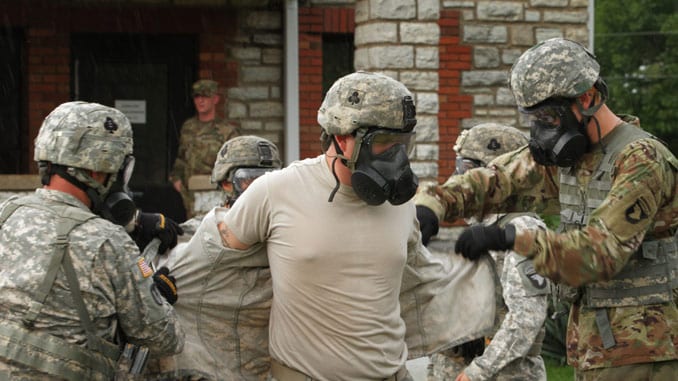 SPC Gary Allen, a wheeled vehicle mechanic, and PFC Joseph Kirkman, a Construction Equipment Repairer, both with Echo Forward Support Company simulate decontaminating fellow soldier Pfc. Ashton Barrell, a motor transport operator, during a Chemical, Biological, Radiological and Nuclear (CBRN) Defense training exercise at Muscatatuck Urban Training Center, Indiana, Aug. 14, 2016.
The soldiers are all part of 326th Brigade Engineer Battalion, 1st Brigade Combat Team, 101st Airborne Division, Fort Campbell, Kentucky,
Company E leaders used the exercise to introduce their Soldiers to a new piece of equipment, the M50 – Joint Service General Purpose Mask, which replaced the US Military's M40 Field Protective Mask.
Images by Quentin Johnson, 211th Mobile Public Affairs Detachment