Wild horses ignore the zebra-striped crosswalk on the main road in Sainshand, Mongolia and meander towards a high-ropes tower where Oregon National Guardsmen are working alongside Mongolian National Emergency Management Agency (NEMA) first responders.
The two groups are working together during Gobi Wolf 19, hosted by NEMA and Mongolian Armed Forces as part of the United States Army Pacific's humanitarian assistance and disaster relief "Pacific Resilience" series from Sept. 9-21.
Oregon Guard Chemical, Biological, Radiological, Nuclear and high-yield Explosives (CBRNE) Enhanced Response Force Package (CERFP) members instruct and learn from their Mongolian counterparts in both high-angle and rope rescue and confined space search and extraction exercises.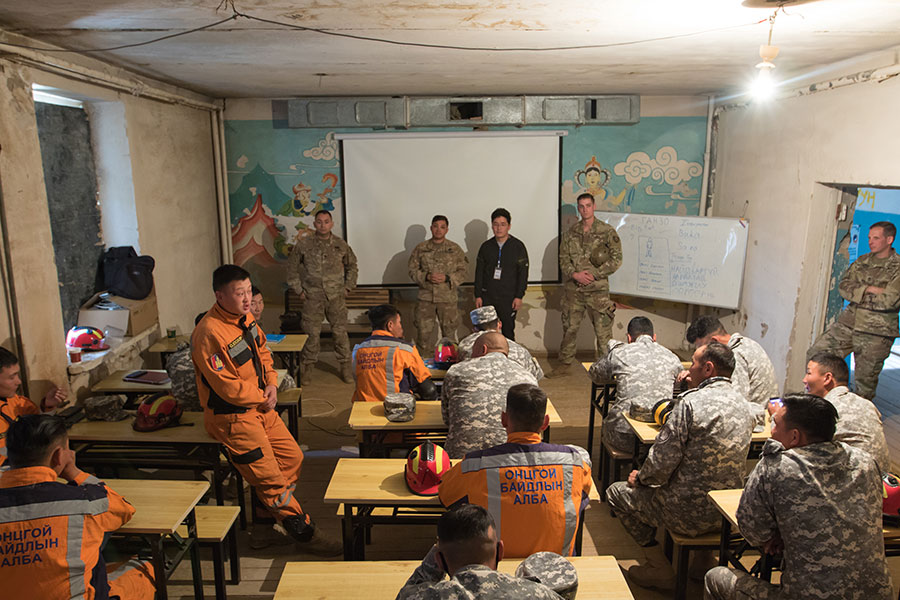 "They ask a lot of questions and give a lot of feedback on how they do things as well," said Staff Sgt. Patrick Gonzalez, a military policeman with the 1186 Military Police Company out of Salem, Oregon.
Gonzalez is an instructor for the confined space extraction portion of the exercise. Mogolians and Oregon Guard members create makeshift classrooms and exercise scenarios in an abandoned food factory. In the factory, paintings of a horse flying above the clouds, and a Tibetan monk in orange decorate one room. In another an idyllic Mongolian family smiles for a portrait, with a colorful city painted as the back-drop, not unlike the town outside the windows.
Oregon Guard soldiers observe as Mongolia NEMA members cram through a tight space with rope attached to safety harnesses, extracting patients from collapsed and dusty dark spaces that make economy seating on a discount airline seem like an open field. Gonzalez said that a confined space is defined as a place you could not live, and where entry and exit and severely limited.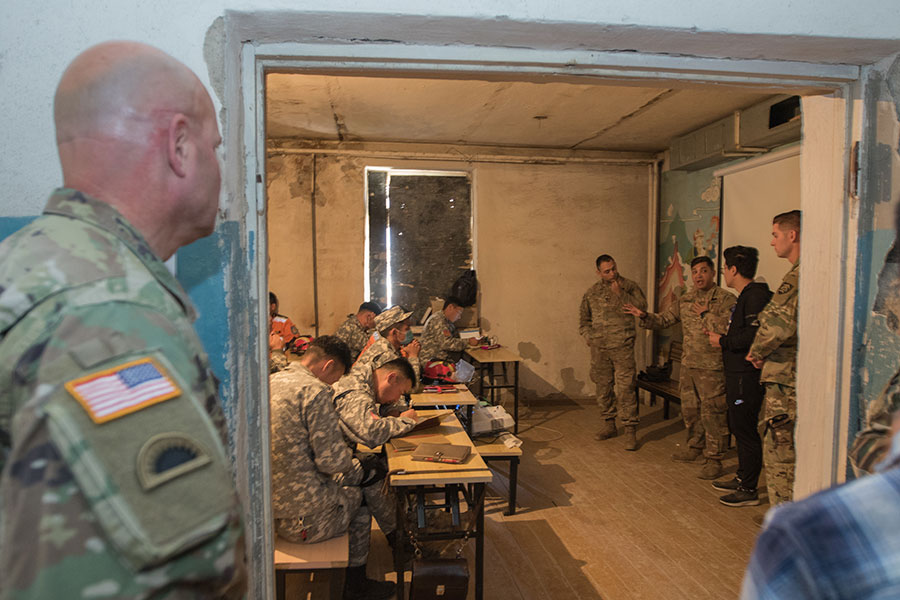 Gonzalez helps a NEMA member lift a piece of wood off a simulated casualty, but only after explaining the hazards of blood circulation being cut off after an extended period of a patient being trapped.
Through the light stained windows of the food factory, the high angle rope tower is visible. 1st Sgt. Jason Obersinner, 1st Sgt. of 821 Headquarters and Headquarters Detachment out of Salem, Oregon, rappels down the three story tower. The tower looks like a mini sky-scrapper—minus the windows and three of the walls—the face wall is painted a vibrant blue. Oregon guard soldiers and Mongolian first responders alike peak out of the six windows cut into the blue wall, heads framed like the intro to the Brady Bunch show.
"The advantage of the high angle rope rescue techniques that we're teaching allows rescuers and crew to safely get to a patient that is in a restricted environment, package them in an immobilizing device such as a sked or a liter, and use the rope system to extract the victim without causing further injury to them," Obersinner said.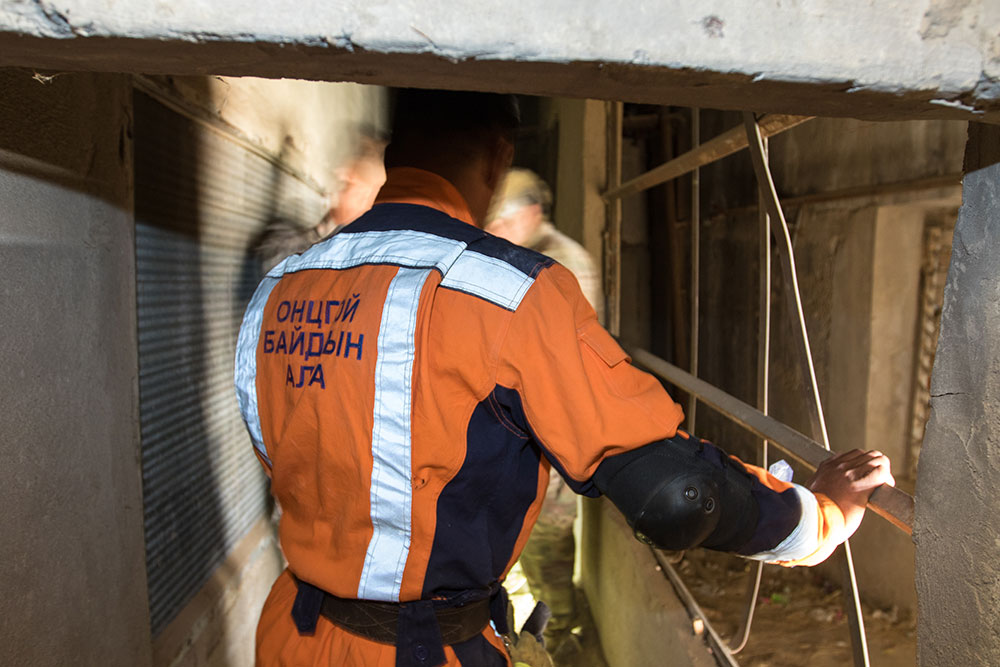 At another point in the exercise a Mongolian first responder packages a trusting mummified Oregon guard soldier into a sked and lowers him three stories down at a straight 90 degree angle. High angle refers to lifting a patient using a rope and harness at an angle greater than 45 degrees.
"The language barrier is a struggle but the partnerships are a lot of fun and it's a good experience," Obersinner said.
Command Sgt. Major Robert Foesch, senior enlisted leader of the Oregon National Guard, sees the Soldiers working on an operational level as them forging relationships with our partners that could impact world affairs.
"You're on the world stage, you've got to produce, you don't get a mulligan… you've got to do it right the first time," Foesch said.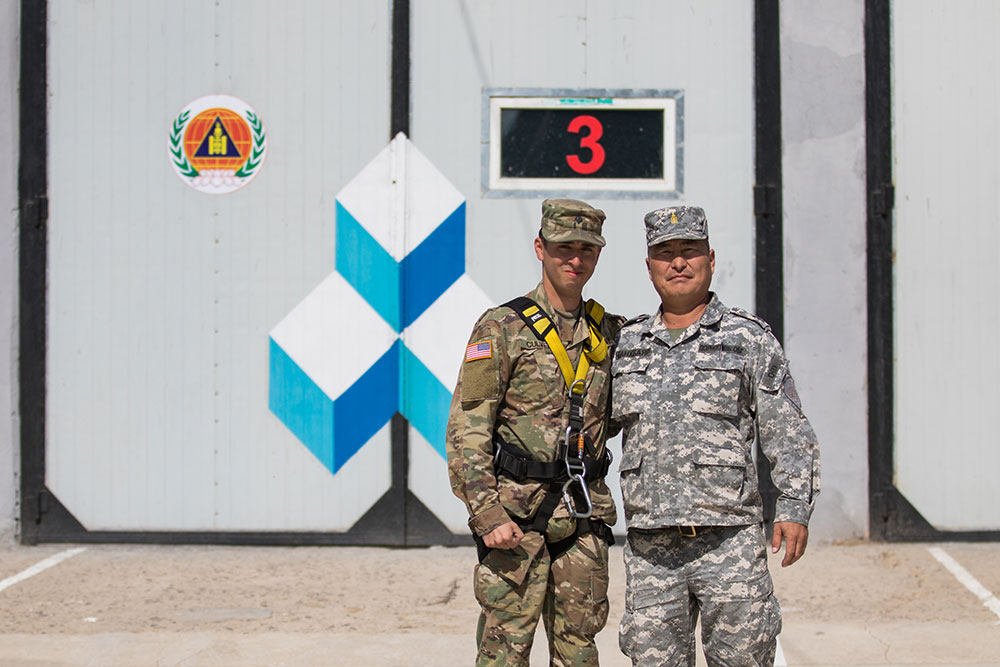 Foesch said getting to know the Mongolian's culture and training style on the trip was vital if we were to ask for help, or they were to request help from us in a future emergency. He emphasized the most important aspect was getting to know and working with our allies.
"The national guard is strategically important to this because of the benefit we have over active duty… we have soldiers in units for a long time, so we can send people that they have already worked with once, or twice, or three times," Foesch said.
It was Pvt. Brandon Huelter's, a military policeman with the 1186 Military Police Company, first time out to a Gobi Wolf exercise. He was one of the soldiers who experienced a cultural day, where they played Mongolian games, practiced archery, and rode camels. He said that he liked the thoughtful nature of the Mongolians, and said he noticed people from the providence took meditation and staying positive very seriously.
Back at the food factory the Mongolians and Oregon National Guard members are taking a traditional tea break, sweat and dust mix on their forehead as they take off their protective helmets.
Gonzalez believes this exercise was one that anybody interested in helping others would've enjoyed.
"We need more bodies, we need more people, this is just one thing that we're gonna be doing in the next few years, there's gonna be more to come," Gonzalez said. "If anyone else wants on it, talk to someone on CERFP and they'll tell you more about it and how to get on in."
Article and images by SPC Timothy Jackson, 115th Mobile Public Affairs Detachment, edited by CBRNE Central.