Marines with 2nd Marine Logistics Group participated in the chemical, biological, radiological and nuclear reconnaissance course on Camp Lejeune, N.C., Feb. 23 to 26.
The training prepared Marines to support CBRN operations in detecting hazardous agents and radioactive environments when additional personnel are required. The CBRN occupational field is small, with approximately 875 Marines providing service to the entire Marine Corps.
"This course allows units to send 10 percent of their Marines, who will actually conduct practical application [exercises] and learn what they could possibly encounter in a real-world scenario," said Cpl. Bradley Wickham, a CBRN defense specialist. "The Marines start out learning the basics of CBRN agents and progress to learning about their personal protective equipment in more detail than what they learned at unit issue facilities or at boot camp."
The basics include an understanding of the lethal dosage of different agents and forms of radiation, and the actions required to detect and protect against them, which forces the Marines to appreciate the stakes of a CBRN event.
The gear used in reconnaissance includes the M50 joint service general purpose mask and mission oriented protective posture suits to protect against exposure. The Marines also trained with equipment such as the M4 Joint Chemical Agent Detector to indicate hazard levels of chemical nerve, blood and blister agents, and toxins, all of which can lead to severe injury or death.
"No one actually likes to sit through slide shows," Wickham said. "We all know that, so we'll have a sit-down period of instruction, but later on we actually go out and allow the Marines to get one-on-one time with instructors. It's very, very important that the Marines get to [use] each type of equipment and figure out what it actually does."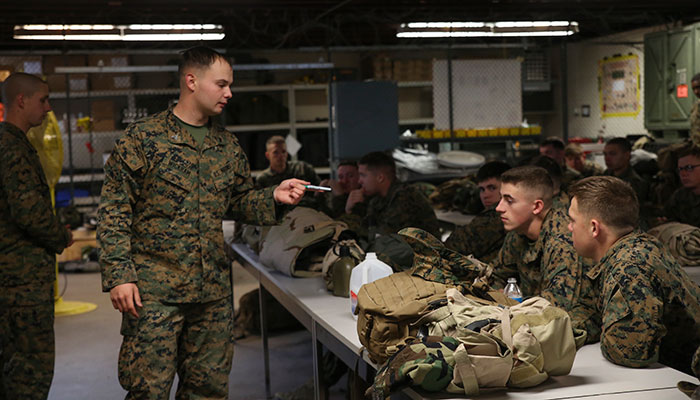 The training allows units to maintain a high level of readiness that extends beyond the usual combat, logistics and individual readiness of every Marine. Events, such as the 2011 Fukushima Daiichi nuclear disaster in Japan where the Marine Corps deployed 140 troops to render assistance, stressed the importance of training additional Marines in CBRN procedures to aid the small number of CBRN Marines. But contamination linked to natural disasters is not the only threat.
"We could face a CBRN attack any time," said Cpl. Daniel Penny, a motor vehicle operator with Combat Logistics Battalion 22, Headquarters Regiment, 2nd MLG, and a native of Bourbonnais, Illinois. "It's really important for people to know the Marine Corps doesn't just train for guerrilla warfare. We train for all types of warfare and chemical is a big one."
Article adapted from original by Sullivan Laramie, II Marine Expeditionary Force