Joint Task Force Civil Support (JTF-CS) conducted recent Deployment Readiness Exercises (DRE) to ensure plans and processes run smoothly in the event of a chemical, biological, radiological or nuclear (CBRN) attack on US soil.
The most recent DRE, held Nov. 2, 2016, was the second phase of the exercise meant to test the skills of 'Bravo crew', including the process of loading vehicles onto aircraft.
"Bravo crew are drivers and assistant drivers of our vehicles whose purpose is to drive people to the Aerial Port of Embarkation (APOE) in order to prepare for aerial transport," explained Marine Maj. Joseph Buffamante, the current operations action officer with JTF-CS. His task for this DRE was to coordinate the JTF-CS personnel for their specific assignments and duties.
It started with a notional scenario of a CBRN attack within the U.S. A call went out to JTF-CS personnel to come into the headquarters, bags packed and ready to head out the door. Once the team was assembled, the team was briefed on the scenario and how travel plans would unfold.
After the briefing, vehicles were prepared for the trip to the Aerial Port Of Embarkation (APOE). In this scenario, the APOE was Langley Air Force Base, where a team from the 735th Supply Chain Operations Group (SCOG) weighed and measured each vehicle, inspected cargo and created load plans for the aircraft.
Once the vehicles passed inspection, they moved on the flight line where the JTF-CS teams assembled ramps to the aircraft. Then drivers backed the vehicles on to the C-17 Globemaster III with the help of the loadmasters from the 315th Airlift Wing in Charleston, S.C.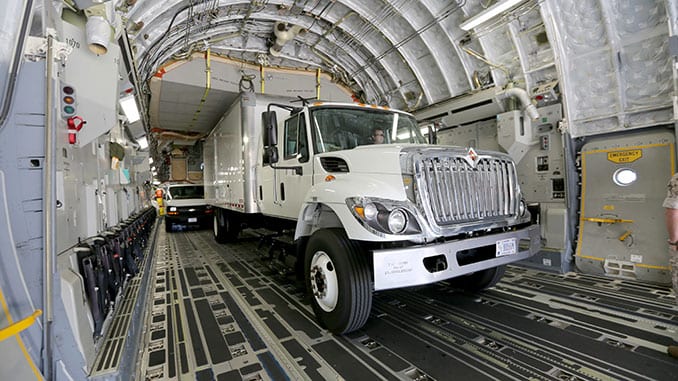 "Essentially they (DREs) provide a validation of our pre-deployment and deployment timelines," said Air Force Lt. Col. Joseph Timberlake, the training, exercise and readiness division chief for JTF-CS. "We plan our response in a certain sequence. Going through them in a DRE gives us a chance to test those plans." This also gives unit members a chance to see where processes might be improved.
Air Force Staff Sgt. Nicholas Lander, a small air terminal supervisor with the 735th SCOG at Langley, was there to help with the inspections. "This is a positive thing [the joint forces] do. Because of these exercises, when time comes to deploy, they can get to where they need to go quickly."
Article adapted from story by Tamara Cario, JTF-CS. Edited for context and format by CBRNE Central.