The second largest military occupational specialty in the Army, medics serve in almost every unit, staff military hospitals and go on every deployment to ensure the health and welfare of soldiers serving overseas.
All Army medic, graduate their advanced individual training as basic emergency medical technicians, EMT-B. This meets the minimum U.S. standard for basic life support and enables them to perform the basic tasks they will need at their units, but provides very limited opportunities for employment when they leave the Army.
To help further the skills of some of Fort Bragg's medics, Womack Army Medical Center partnered with Fayetteville Technical Community College to provide the opportunity for a pilot project, allowing them the opportunity to earn attend EMT-Paramedic training.
"I believe there is a need for us to continue our medical training in the Army," said Command Sgt. Maj. Carlos Gomez, senior enlisted advisor, WAMC. "Right now, it stops at EMT-Basic. The goal of this course is to provide additional training and enhance the skills, knowledge and readiness of our medics as they become paramedics."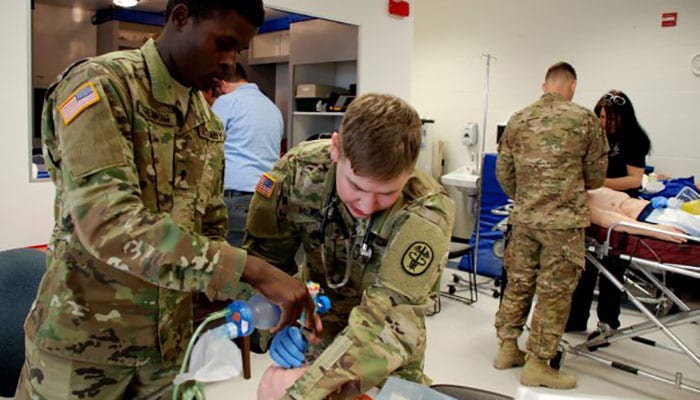 Gomez said that Army medic training levels should reflect the roles they play in caring for service members deployed overseas.
"In deployed settings, medics, corpsman and medical technicians fill vital roles," said Gomez. "When they return stateside, they're often relegated to minor clinical and non-clinical roles due to the current certification level of an EMT-Basic."
Gomez said when looking for ways to increase training, FTCC was the obvious place to turn because they were already training civil affairs medics to become paramedics and had the infrastructure in place. He said the partnership is a great because it also gets the medics out into the local community as they complete their course work.
"The students complete 300 hours of clinical rotations at Cape Fear Valley Medical Center and 300 hours of 'ride along' time in an ambulance," said Bryant Stepp, the Emergency Medical Services instructor at FTCC. "This allows them to see experience different conditions and cases outside of what they normally see on Fort Bragg or overseas."
Stepp, who served as a Navy corpsman and has deployed numerous times, said that he appreciates to opportunity to help further the training of military medics.
"The military medics are trained well to do what they do, this helps give them additional training and the certification to back it up in the civilian world," said Stepp. "This is a fantastic opportunity for them and a great thing for the military as a whole for the care that they will now be able to provide."
Currently, there are 28 students in the inaugural class. Two of the students are civilian EMTs from Womack's Emergency Department. Four of the students are Army medics assigned to WAMC's ED. The remaining students are Soldiers representing various units across Fort Bragg, including the 82nd Airborne Division and the 20th Engineer Brigade.
Article adapted from original by Eve Meinhardt, WAMC, edited for context and format for CBRNE Central.