Security Today 2014
November 18, 2014

-

November 19, 2014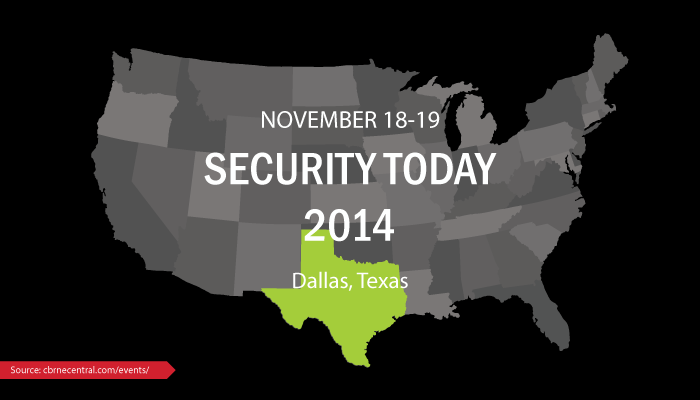 The Security Today Conference & Expo will be held 18-19 November 2014 in Dallas Texas, with pre-conference workshops offered on Nov. 17.
Security Today is a comprehensive event addressing the security challenges of the public and private sectors in the western U.S. Learn from thought leaders and subject matter experts during insightful sessions and workshops and experience firsthand the latest physical and IT-based security on the market.
Highlighted conference sessions include:
Building a Higher Performance Safety Team
Shaping Your Company's Future with the SAFETY Act
Ebola Outbreak: The Effect on Business Operations and Supply Chain
Continuity of Operations: Ensuring Critical and Mission Essential Functions
Active Shooter and the Real First Responders
Learning to Create a Table Top Exercise
Security from the Inside Out
Critical Infrastructure Security – The Cost of Little or No Protection
Science of Security: Cyber Intelligence Analysis
Counter Espionage for the Business Traveler
Behavioral Analysis: Identifying Pre-Attack Warnings
School Marshall Program: Providing Options for Protecting Our Children
The Border Crisis: Strategies and Solutions
What You Need to Know Before Implementing Biometric Access Control
Attacks on the Power Grid: A Call for Mitigation Measures
Case Study on the Dallas Police Social Media Strategy
First Responder Communications During a Violent Incident
Please visit the Security Today Conference & Expo website for more information and to register.