Biological and Chemical Security Symposium
November 19, 2014

-

November 21, 2014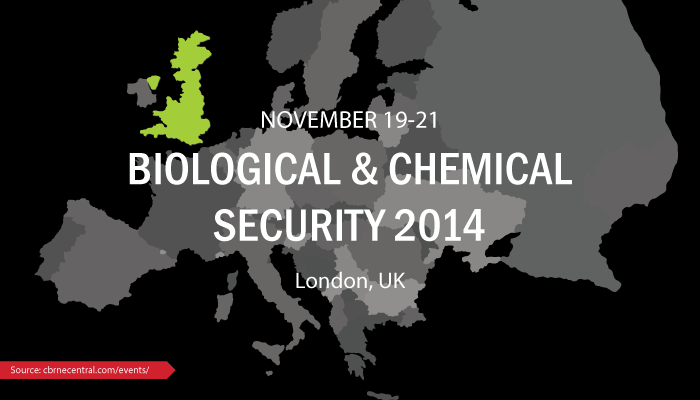 An International Conference on Biological and Chemical Security in an Age of Responsible Innovation will be held 19-21 November at the Royal Society, UK.
This meeting will bring together an international range of experts and policy makers to examine current capabilities to identify and respond to such challenges at local, national and international level.
Highlighted focus areas include:
Recent relevant advances in synthetic biology, neuroscience and nanobiotechnology
National approaches to identifying and governing dual-use aspects of innovation
The responsiveness of international biological and chemical weapon prohibition regimes to advances in science and technology
Confirmed speakers include:
Koos van der Bruggen, Working Group on Biosecurity at KNAW
Jonathan Forman, OPCW
Caitriona McLeish, University of Sussex
James Revill, University of Sussex
Simon Wain-Hobson,Institut Pasteur
Michael Crowley, University of Bradford
Malcom Dando, University of Bradford
Ralf Trapp, Independent Arms Control Consultant
Stefan Mogl, Spiez Laboratory
Laura Adam, James Martin Center for Nonproliferation Studies (CNS)
Gary Burns, Independent Biosafety and Biosecurity Consultant
Catherine Rhodes, University of Manchester
Jo Husbands, National Academy of Sciences
Mike Imperiale, University of Michigan Medical School
Silja Vöneky, Universität Freiburg
Nicholas Evans, University of Pennsylvania
The event is hosted by the Biochemical Security 2030 Project, University of Bath. Please visit the Biochem Security 2030 website for more information.