EOD & C-IED 2014
November 17, 2014

-

November 19, 2014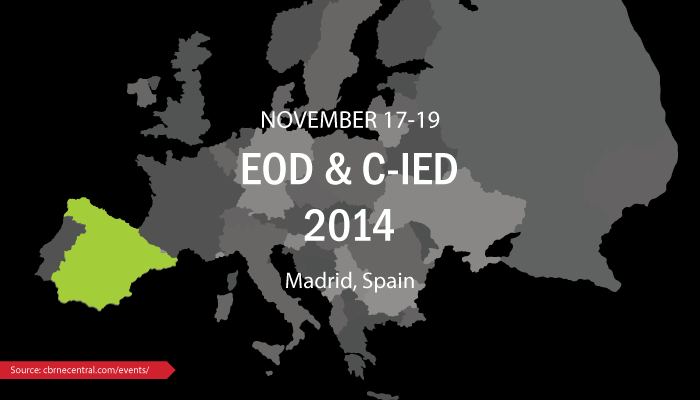 EOD & C-IED 2014: The Explosive Ordnance Disposal & Counter IED conference will be held 17-19 November, 2014 in Madrid, Spain.
Counter IED and EOD missions were synonymous with the wars in Iraq and Afghanistan. But as these operations draw to a close, the continuing threat of IEDs in both military and civilian landscapes makes a Counter IED and Explosive Ordnance Disposal ready force no less important. The Middle East, North Africa and South America, as well as the West are all suffering from the proliferation of these weapons as a tool of terrorism and disruption, necessitating effective future planning and training.
Highlighted Topics Include:
Introducing the 20th CBRNE
The IED Threat Post Iraq and Afghanistan
Tactics, Techniques and Procedures (TTPs) Proliferating in CENTCOM's AOR
Capability Gaps When Looking Ahead To Future IED Threats
CENTCOM Procurement Plans for Developing its CIED Force
Challenge of Maintaining Technological Advantage to Defeat Ever Advancing Enemy TTPs
Handheld Detection Devices
Mali Mission Overview, UNMAS
Discussing the Continued Relevance of C-IED Concepts
Identifying Gaps in Responses to Explosive Threats
Testing and Evaluating New Equipment
Developing Procedures for Robotics, Simulation and Training Software
NATO CIED COE: Mission, Concept and Objectives
Predicting Emerging and Future IED Threats
International Preparations and Collaborations to Fight Terrorism
UK C-IED Institutionalisation Programme – Overview
C-IED/Counter EOD Future Opportunities for Industry
Defence Explosive Ordnance Disposal, Munitions and Search (DEMS)
Please visit the EOD & C-IED 2014 conference website for more information and to register.