National Fire Protection Association 2016
June 13, 2016

-

June 16, 2016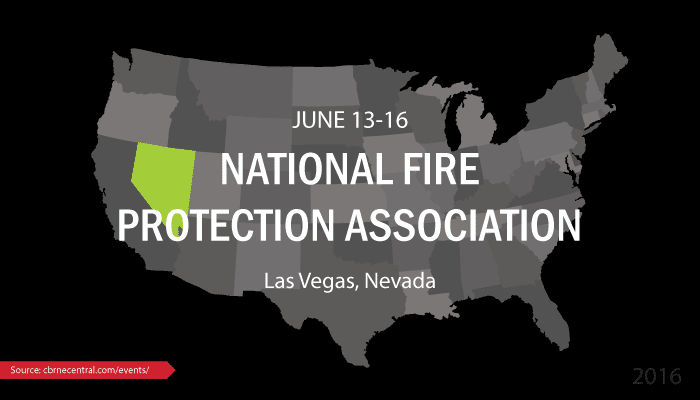 The National Fire Protection Association NFPA 2016 Conference and Expo will be held June 13-16, 2016 in Las Vegas, Nevada.
The event is widely regarded as the most comprehensive industry event for countless professionals — from architects, engineers, contractors, and building managers to public and private fire service, enforcement agencies, insurers, and utilities.
Highlighted sessions include:
Planning for Patient Surge in a Mass Casualty Incident
Mass Decontamination of Personnel and Equipment Following an Industrial Fire
Drones – Emergency Management, Social Change, and Disruptions
Advocating for Toxic Free Fire Safety
Evacuation Shelters – The Critical First 24 Hours
Disaster Preparedness and Incident Management Best Practices
Burn Survivors and Fire Service Personnel–Meaningful Interactions
Portable Containers – Keeping Small Containers from Creating Large Problems
Emergency Evacuation – Don't Assume the First Responders are Responsible
Hurricane Preparedness – The Who, What, and Why of the 120 Hour Plan
Emergency Response at West, TX: Lessons Learned from CSB Investigation
Disaster Resiliency and NFPA Codes and Standards
How Clean is Clean? The Validation of Fire Fighter PPE Cleaning
Please visit the NFPA Conference & Expo website for more information and registration.