CBW Protection Symposium 2016
June 8, 2016

-

June 10, 2016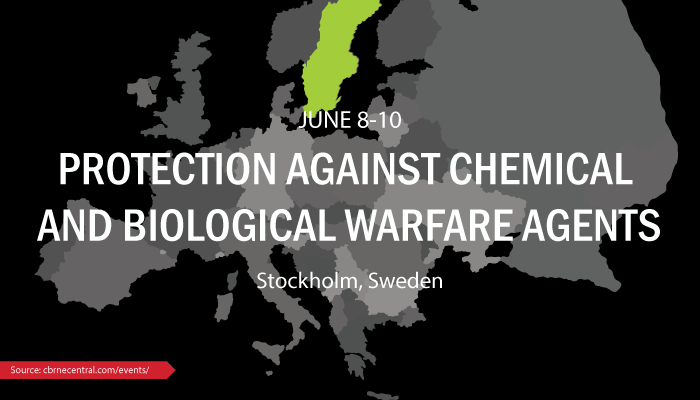 The 12th International Symposium on Protection Against Chemical and Biological Warfare Agents will be held June 8-10, 2016 in Stockholm, Sweden.
The symposium gathers those engaged within the field of chemical and biological protection for equipment exhibits and presentations on topics including:
State and non-state actors with CBW ambitions
CBRN modeling and simulation
First response in CBRN incidents
CBRN crisis management at national and international levels
Education and training for CBRN environments
Lessons learned from multinational operations
Detection technology and systems
Mobile laboratories
Identification and forensics of biological agents and toxins
Analysis of forensics of chemical agents
Environmental and health threats of military interest
Medical management, triage and early diagnostics
Novel targets for medical countermeasures
Long-term health impacts of CBRN exposure
Filter capacity and respiratory protection
Disarmament and non-proliferation
Decontamination
This year's keynote speaker is Colonel Vratislav Osvald, Director for Training, Exercises and Education Department, NATO's Joint Centre of Excellence (COE).
The Symposium is organized jointly by a number of Sweden's agencies invested in CBRN defense and emergency preparedness, including: Swedish Defence Research Agency, Swedish Armed Forces, National Defence College, and the National Police Board.
Please visit FOI's CBW Protection Symposium website for more information and to register.