Governor's Hurricane Conference
May 10, 2015

-

May 15, 2015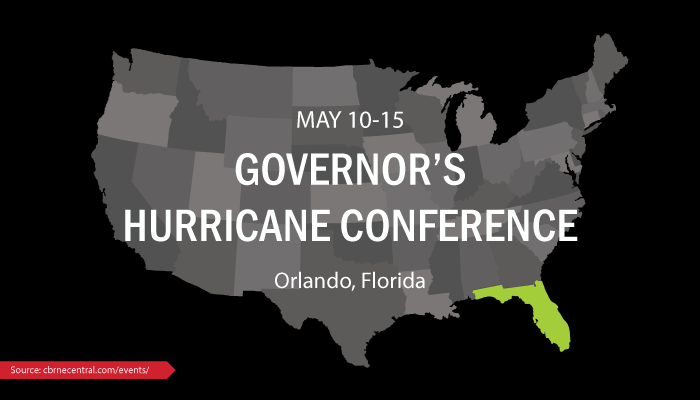 The 29th Annual Governor's Hurricane Conference will be held May 10-15, 2015 in Orlando, Florida.
The event draws more than 1,000 emergency managers and personnel, first responders, state, federal, volunteer agency, business and industry representatives, along with health and medical professionals.
Training and general sessions, courses, roundtables and workshops will help participants further their knowledge to better prepare for, respond to, recover from and lessen the effects of hurricanes and other natural and man-made disasters.
Various discussions will be held on how to connect capabilities for stronger communities through leverage of partnerships, personnel and resources for effective response during challenging times. A Healthcare Concentration is in its fourth year, offering a broad series of sessions targeting healthcare professionals and expansion of training to include additional response partners.
Invited speakers include:
Governor Rick Scott
President and Chief Operating Officer of Rosen Hotels and Resorts Harris Rosen; Former White House Resilience Official Josh Sawislak
Premier of Bermuda Michael H. Dunkley
Florida Division of Emergency Management Director Bryan Koon
National Hurricane Center Director Dr. Rick Knabb
Please visit the Governor's Hurricane Conference website for more information and to register.