EMS World Expo
November 9, 2014

-

November 13, 2014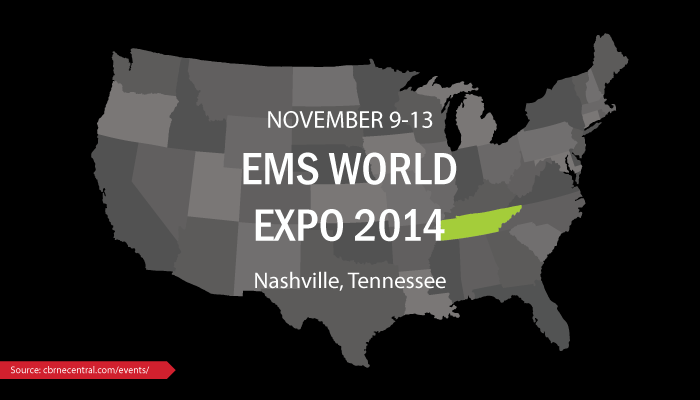 The EMS World Expo will be held November 9-13, 2014 in Nashville, Tennessee. The event is co-located with the NAEMT Annual Meeting, Integrated Healthcare Forum, World Trauma Symposium and the Mobile Integrated Healthcare Summit.
Highlighted sessions include:
EMS Gone Viral: Adapting the Prehospital Response to Ebola
HHS and EMS: Innovative Technology and Critical Medical Countermeasures
EMS Medical Directors Panel Discussion
The Ebola Virus: What Responders Need to Know
10 Myths of EMS Pediatric Care
Are You Ready for the Next Pandemic?
Extreme Gunshot Wounds
Telemedicine in Actions: A Real-World Approach for EMS & Mobile Healthcare
Vanderbilt Medical Center Tour
Trauma Moulage for Mass Casualty Scenarios
EMS Legal Issues
Prehospital Management of Pediatric Patients During a Mass Casualty Event
Transfusion Confusion: Blood Product Admistration and EMS
EMS Response to Critical Incidents: The Active Shooter Scenario
Care and Controversy in Crush Injuries and Compartment Syndromes
Analyzing the Economic Impact of Injuries to EMS Providers
Using Point-of-Care Lab Testing To Improve Patient Care
Please visit the EMS World Expo website for more information and to register.