APBI 2019 – Aberdeen Proving Ground Advanced Planning Briefing to Industry
April 29, 2019

-

May 3, 2019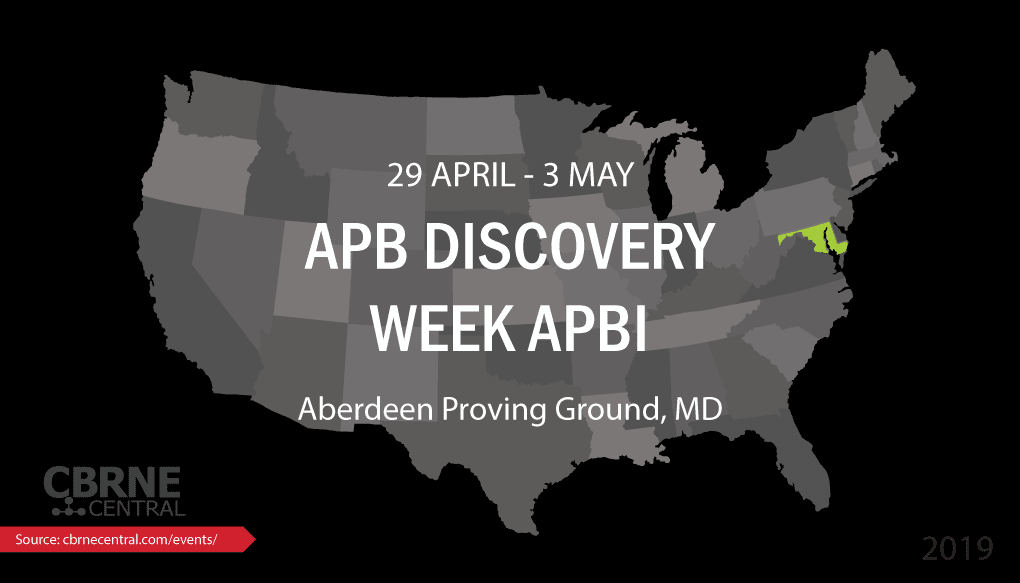 Team Aberdeen Proving Ground (APG) anticipates hosting the APG Discovery Week Advanced Planning Briefing to Industry (APBI) the week of 29 April-3 May 2019, at APG, Maryland.
APG is home to the Edgewood Chemical and Biological Center (ECBC) and United States Army Medical Research Institute of Chemical Defense (USAMRICD) among other critical tenant organizations.
The goal of the APG Discovery Week APBI is to provide industry with networking opportunities for both large and small businesses. The APBI will describe potential future contracting opportunities for mission areas that focus on:
Chemical and Biological Defense
Command, Control, Communications, Computers, Intelligence, Surveillance, and Reconnaissance (C4ISR)
Research and Development
Test and Evaluation
APG Garrison
The APG Discovery Week APBI will identify potential contracting opportunities that are aligned with the roadmaps of each respective organization, specifically focusing on Fiscal Years 2020-2021.
All APG Discovery Week APBI attendees must be United States citizens and meet the requirements for admission to APG, to include: proper identification (i.e., driver's license and/or Common Access Card), vehicle registration or a car rental agreement, and proof of insurance.
Several registration options are available for those interested in attending. Registration options include a "3-day pass" that provides access to all briefings and breakout sessions 30 April, 1 May, and 2 May. The registration fee for a 3-day pass is $445. Individual day registrations are also available for a $200 registration fee per day. Lunch will be available on site each day for $22.
Schedule Information:
Note that schedule information reflects the current best information available and is subject to change.
Tuesday, 30 April: Contract opportunity briefings from ACC-APG, PEO IEW&S, PEO C3T, Garrison APG, and CECOM. Breakout sessions scheduled from PEO IEW&S, CECOM, ACC-APG, Office of Small Business Programs.
5:00 PM: Hall of Fame Dinner at the APBI Dining Tent*
Attire: Coat and Tie
Wednesday, 1 May: Contract opportunity briefings from ATEC and JPEO CBRND and a small business guest speaker and program update. Breakout sessions scheduled include JPEO CBRND, CCDC, ACC-APG, Network CFT, CECOM, and the Office of Small Business Programs. The Business After Hours networking event will also take place.
8:30 AM: Hall of Fame Induction Ceremony at the Myer Auditorium (Building 6000)*
Attire: Duty Uniform / Business
Thursday, 2 May: Contract opportunity briefings from CCDC (formerly RDECOM) organizations, including C5ISR Center, ECBC, and ARL. Scheduled breakout sessions include ACC-APG, CECOM, and PEO C3T.
APG senior leaders will also host the APG Discovery Week Business After Hours social event 1 May from 1700-2000. The cost to attend Business After Hours is $30. Lunches and Business After Hours are not included as part of either the 3-day or 1-day registration fees.
Registration for the APG Discovery Week APBI is now open. Navigate to https://www.missiontix.net/apbi-2019-registration to register for the Discovery Week APBI, lunches, and the Business After Hours networking event. There are no restrictions on the number of seats available per company.