Soldiers from the 707th Explosive Ordnance Disposal (EOD) Company assumed responsibility for the EOD mission at McChord Field from U.S. Air Force EOD technicians June 15.
The U.S. Air Force's 27th EOD Flight previously covered EOD operations at the airfield, home to the 62nd Airlift Wing.
The 707th EOD Company is part of the 3rd EOD Battalion, 71st EOD Group, 20th CBRNE Command (Chemical, Biological, Radiological, Nuclear, Explosives). With units on 19 posts in 16 states, the Aberdeen Proving Ground, Maryland-headquartered 20th CBRNE Command is the Defense Department's only multifunctional formation that combats CBRNE threats.
In addition to covering airfield operations and deploying for global military operations, the 707th EOD Company supports law enforcement agencies in 20 counties of western Washington and northern Oregon.
Capt. Shawn T. McMickle, commander of the 707th EOD Company, said McChord Field serves as a transportation hub for U.S. troops stationed in the Pacific Northwest.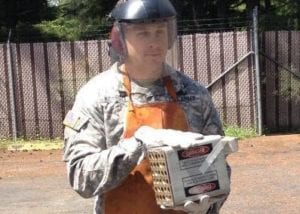 U.S. Air Force C-5 Galaxy and C-17 Globemaster III transport aircraft operate from the airfield, along with F-16 Fighting Falcon and F-15 Eagle fighter jets from the Oregon Air National Guard.
McMickle said his Soldiers prepared for the new mission during a rigorous training program.
"The 707th conducted aircraft familiarization and identification of explosive hazards associated with the aircraft, as well as stuck and failed flare recovery and removal," said McMickle, a Milford, Pennsylvania, native who served in Iraq and Afghanistan. "We also trained more in-depth with potential munitions that could be attached to the aircraft that come to the airfield in transit to their destinations."
The EOD company commander said the airfield mission is an example of the joint nature of the EOD community.
"EOD across the different services are willing to assist each other to adapt and overcome," said McMickle. "As EOD techs, we are capable of completing any task that may be given to us."
Article by Walter Ham, 20th CBRNE Command, edited for context and format by CBRNe Central.