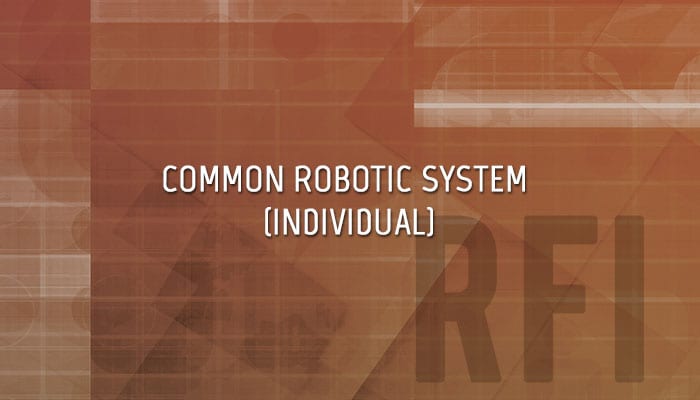 The U.S. Army is conducting an updated market survey on technologies and applications to support the Common Robotic System (Individual), or CRS(I).
CRS(I) is highly mobile, modularized system development and equipping effort which aims to enhance maneuver and force protection for dismounted military personnel with mission-configurable payloads and sensors.
The CRS(I) will operate in all types of operations and provide protective maneuver for Soldiers and Marines for dismounted assault, and will be employed in all environments to include asymmetrical and military operations in support of conventional war, Explosive Hazard Detection (EHD), combating terrorism, peace enforcement, and peacekeeping operations.
Currently identified payload options include Standard Payload, Engineer Payload, Infantry Payload, Chemical, Biological, Radiological or Nuclear (CBRN) Payload, and Explosive Ordnance Disposal (EOD) Payload.
The Warfighter must possess a superior capability to detect and confirm the presence of threats when the tactical unit commander suspects the presence or a high possibility of a threat. In addition, CRS(I) must be able to locate and identify Improvised Explosive Device (IED) and booby traps such as side-charge and remotely detonated mines. Furthermore, dismounted Warfighters must be capable of operating and quickly transitioning without pause across the full Range of Military Operations (ROMO).
CRS(I) will support the following tasks:
Remotely provide reconnaissance capability in urban and subterranean battlespace
Remotely deploy into urban features
Remotely detect and facilitate man-in-the-loop recognition and reporting of explosive and non-explosive obstacles to the small unit leadership to facilitate their neutralization and/or bypass by the dismounted Warfighters. Neutralization will be performed by Warfighters certified by specialized training to perform IED/demolition functions
Remotely detect subterranean avenues of approach to prepare obstacle plans
Remotely assess bomb damage and subterranean structural integrity of facilities and buildings
Remotely emplace unattended ground sensors
Further details are available via Solicitation Number: W56HZV-16-R-CRSI. Capability statements are due by March 4, 2016.