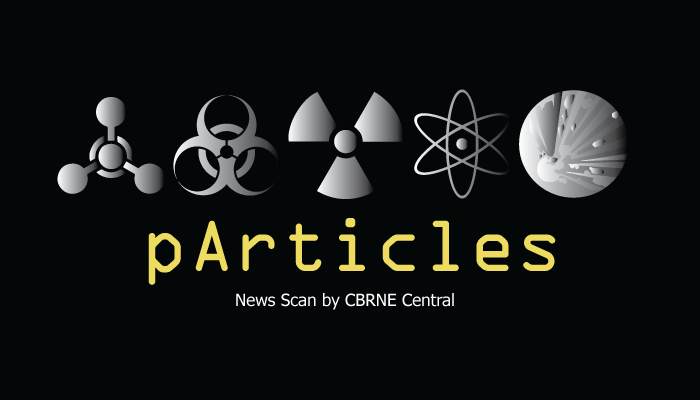 Topics in this issue include remote detection of radioactive materials, the Maritime Security Response Team, and remembering the Halabja chemical attacks.
Military & Civilian Responders
2nd MAW CBRN Marines Conduct Live Training
2nd Marine Aircraft Wing CBRN specialists recently conducted radiological training at Marine Corps Outlying Field Atlantic and concluded the training evolution at Marine Corps Air Station Cherry Point. More than 20 Marines with Marine Wing Headquarters Squadron 2, Marine Aircraft Group 14 and Marine Aircraft Group 28 took part in training scenarios with live radioactive sources. Marines were tasked with identifying and locating the sources of radiation, while following protocol during the training event. Camp Lejeune Globe >>
Guardians of the Waterways
The MSRT (Maritime Security Response Team) is coming up on its 10-year anniversary. Few people know much about this branch of the US Coast Guard that is tasked with counterterrorism training and operation in a maritime environment. MSRT bridges both military service and law enforcement. On ferries, beaches and boats the team trains to go up against would-be terrorists, active shooters and CBRN threats. They are also well-versed in search and rescue missions and commonly called to assist in any type of national security event. Officer.com >>
Nuclear Security
Remote Detection of Radioactive Materials
National security experts believe terrorists continue to be interested in such devices for terror plots. Now researchers have proposed a new technique remotely to detect the radioactive materials in dirty bombs or other sources. It is the increased ion density that the researchers aim to detect with their new method, calculating that a low-power laser aimed near the radioactive material could free electrons from the oxygen ions. HSNW >>
IAEA Service to Help Member States Strengthen the Radiation Protection of Workers
Ionizing radiation has many beneficial uses, including in medicine, science and industry, but those working with radiation sources as well as the public and environment need to be protected from its harmful effects. The IAEA offers Member States a thorough review through its Occupational Radiation Protection Appraisal Service (ORPAS) to help in the development of a high-level and effective safety infrastructure for those working with radiation. International Atomic Energy Agency >>
"Acceptable Risk" Is a Better Way to Think About Radiation Exposure in Fukushima
With regard to radiation exposure, "safe" really means an "acceptable level of risk," and not everyone agrees on what is acceptable. Providing people with this risk characterization information, at the very least, is within the power of all radiation regulatory agencies, even if achieving complete cleanup of the environment is beyond their reach. This public information void about radiation risks needs to be filled. People can make their own decisions once they're empowered with credible and intelligible risk information. HSNW >>
Change the Incentives: Stigmatize Nuclear Weapons
According to mainstream international relations theory, states build nuclear weapons because they need them for security, particularly to counter the capabilities of beefy adversaries. Although the security model may explain a handful of cases, and provide nuances to others, it cannot explain why the world's nine nuclear-armed states are not generally small states in need of a "great equalizer," but rather are major powers with mighty conventional capabilities, perfectly able to deter adversaries without threatening them with weapons of mass destruction. Bulletin of the Atomic Scientists >>
Republicans Say White House Dangerously Unfocused on True Nuclear Threat
The Obama administration has failed to combat worrisome nuclear proliferation, especially in Russia, North Korea, Iran and Pakistan, Republican senators said Thursday, countering State Department officials who contended the bigger and more immediate threat is nuclear weapons in the hands of terrorists. Military Times >>
Chemical & Biological Threats
New Graphene-Coated E-Fabrics Detect Noxious Gases
Researchers have coated cotton and polyester yarn with a nanoglue called bovine serum albumin (BSA). The yarns were then wrapped in graphene oxide sheets. These graphene oxide yarns were exposed to a chemical reduction process, which involves the gaining of electrons, and were found to be particularly sensitive to detecting nitrogen dioxide, a pollutant gas commonly found in vehicle exhaust that also results from fossil fuel combustion. NanoWerk >>
Dstl Decontamination Device Available for Licensing
The UK's Defence Science and Technology Laboratory (Dstl) has announced a technology licensing opportunity for a low-cost, easy-to-use, man-portable device for isolating and decontaminating a chemical, biological or radiological hazard on a level or near-level surface. Global Biodefense >>
Haunted by the Smell of Apples: 28 Years On, Kurds Weep Over Halabja Massacre
Kurdish history is full of oppression, suffering and tragedies. But the gas attack at Halabja, 28 years ago this week, must surely be the most egregious. In 1988, during the closing days of the Iran-Iraq war, Saddam Hussein's army attacked the Kurdish province near the Iranian border with chemical gas, including mustard gas, sarin, cyanide and tabun. Survivors from Halabja say the gas smelled sweet like apples and instantly killed people who were exposed. The Conversation >>
Explosive Threats & Facility Incidents
Inside the Investigation into US Chemical Plant Explosion
The chemical ammonium nitrate has been linked to several major explosions all over the world, including one at a chemical plant in the U.S. state of Texas that exploded in 2013. More than a dozen people died. The investigation into what went wrong and how to prevent it from happening again was completed just this year. CCTV America's Jim Spellman reports from Texas. CCTV >>
Gas Explosion Wounds 39 In Tehran's Grand Bazaar
Iranian state media says a gas canister explosion in Tehran's Grand Bazaar has wounded 39 people. The official IRNA news agency said Wednesday's blast happened in the basement of a building in the heart of the bazaar, which was packed with people shopping ahead of the Iranian new year. Associated Press >>
Fire Officials: Blaze at Birmingham Plastics Firm Accidental
Birmingham Fire & Rescue officials said that the fire started Wednesday afternoon in a wood shop at the plant, where workers were making fiberglass molds when sawdust in the room combined with chemicals used to make molds started the fire. WLTZ News >>
No Injuries as Fiery Blast Damages Wood Products Mill In Quesnel, B.C.
WorkSafeBC has launched an investigation into the cause of an explosion and fire at a forest products mill in Quesnel, B.C. WorkSafe investigators took over the scene from the RCMP on Thursday morning, barely 12 hours after fire tore through a section of the WestPine medium-density fibreboard mill, about 600 kilometres north of Vancouver. Between eight and 30 workers were on site when it happened at and all were safely evacuated. Canadian Press >>
Hawaii Grad Student Seriously Injured in Lab Explosion
Fire officials say an explosion inside in a University of Hawaii at Manoa laboratory seriously injured a graduate student doing an experiment. Officials say the 29-year-old woman was alone and mixing gases Wednesday night when the blast happened. Authorities didn't identify the substances, but Honolulu Fire Department Battalion Chief Geoff Chang says the blast appeared to be from a compressed gas cylinder. Capital Bay News >>
Spring Plant Heavily Damaged in 2-Alarm Blaze
Firefighters have contained a two-alarm fire at a Spring fiberglass company. The Harris County Fire Marshal's Office reported that the blaze started before 6 a.m. at Champion Fiberglass in the 6400 block of Stuebner Road. KHOU-TV reported that the fire was spotted by an employee, who helped to evacuate workers inside the building. My San Antonio >>
Hazmat
Fire Lab Groundwater Contamination Prompts Water Scare for Residents
The discovery of groundwater contamination at a National Research Council (NRC) fire research laboratory in Mississippi Mills has spread to the wells of the nearly 50 homes nearby. Tests done at the facility owned by the NRC since 1981, located on Concession 8 in Ramsay, showed trace amounts of the toxic perfluoroalkylated substances (PFAS) in the drinking water. Inside Ottawa Valley >>
EPFD HAZMAT Team Clear Chemical Leak Scene in South El Paso
The El Paso Fire Department HAZMAT team has cleared the scene of an overnight ammonia leak, and is now monitoring a chemical leak in the 300 block of Dallas in south El Paso. Businesses in the area first alerted the EPFD Tuesday night about a strong ammonia odor coming from the building. El Paso Proud >>
Nuclear Weapon Systems
North Korea Fires Missile Into Sea, South Korea Says
North Korea flouted United Nations resolutions on Friday by firing what appeared to be a medium-range ballistic missile into the sea between the Korean Peninsula and Japan, the South Korean military said. The projectile, believed to be a Rodong missile, took off from Sukchon, north of Pyongyang, the North Korean capital, and flew across the peninsula before crashing into the sea off the North's east coast. The missile flew about 800 kilometers, or 500 miles, the South Korean military said in a statement. New York Times >>
North Korea's Ballistic Missile Submarine Program: An Update
North Korea's recent launch of the Kwangmyongsong-4 satellite has also raised concerns about its continuing development of the Bukkeukseong-1 (Polaris-1, KN-11) submarine-launched ballistic missile (SLBM) and the GORAE-class experimental ballistic missile submarine. Recent commercial satellite imagery of the Sinpo South Shipyard indicates that North Korea is continuing to actively pursue development of both programs. 38 North >>
Obama Sanctions N. Korea for Nuclear, Missile Tests
President Barack Obama hit North Korea with new sanctions Wednesday in response to the country's "illicit" nuclear and ballistic missile tests earlier this year. An executive ordered signed by the president implements two sets of sanctions: those that unanimously cleared the U.N. Security Council and a separate round of U.S. sanctions enacted by Obama after Congress overwhelmingly approved and sent him legislation. Stars & Stripes >>
Nukes They Can Use? The Danger of North Korea Going Tactical
On March 2, 2016, Kim Jong Un gave direction to the military to "get the nuclear warheads deployed for national defense always on standby so as to be fired at any moment." The North reiterated versions of this formulation for days afterwards, including a "preemptive nuclear strike of justice." These threats drew international attention because of concerns about the prospect of imminent violence, particularly in the wake of unprecedented UN sanctions and the kickoff of Key Resolve, the combined US-ROK annual military exercise. 38 North >>
Education & Training
New Course for USG Practitioners
The James Martin Center for Nonproliferation Studies will will host a course series designed for practitioners in the field of nonproliferation of weapons of mass destruction. The courses are being offered to US government personnel, including fellows working at US government agencies. Officials from a number of foreign embassies will also be invited to participate. The course is free of charge to qualified applicants. Center for Nonproliferation Studies >>