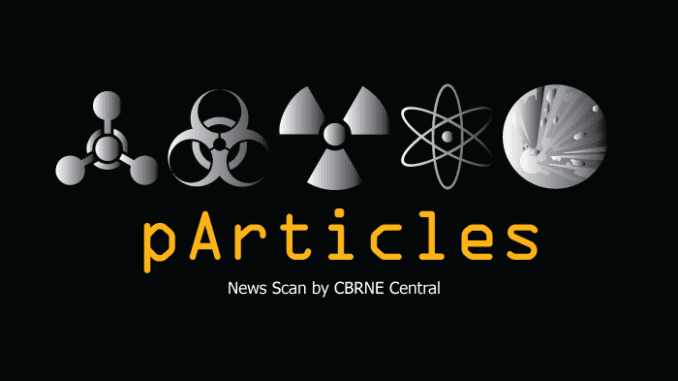 Topics in this issue include Japan's Counterterrorism Forces, bombing forensics, and ISIL bioweapons threat.
Radioactive Boar Are Thriving and Causing Havoc Near the Fukushima Power Plant
Since the nuclear disaster, the population of wild boars has rocketed, much to the dismay of surrounding communities, The Times has reported. In the four years following the disaster, the population of boars is thought to have boomed from 3,000 to 13,000. You might think this ancient Japanese symbol of prosperity and fertility might be welcomed, but it's estimated they have caused $15 million worth of damage to local agriculture. IFL Science >>
HMCS Saskatoon and Edmonton Assist in Narcotics Seizures on Op CARIBBE
The interception involving HMCS Saskatoon and its embarked LEDET began the evening of March 25 when a MPA conducting a routine patrol located a target of interest in international waters off the coast of Central America. The vessel, a "panga"-style fishing boat, jettisoned its cargo and fled the scene. After several hours of searching, HMCS Saskatoon found the jettison field in the early morning of March 26, and 16 bales of cocaine were retrieved from the water, weighing a total of 640 kilograms. Government of Canada >>
Are Japan's Counterterrorism Forces Really Ready?
When an escaped zebra was chased down by police in Gifu Prefecture last month and died after being shot with a tranquilizer and falling into a pool, I couldn't help but think of the drills Tokyo's Ueno Zoo has conducted depicting the escape scenario. Japan Times >>
From Hiroshima to a Nuke-Free World
What Secretary of State John Kerry called his "gut wrenching" visit to the Hiroshima war memorial on Monday served several purposes. As the highest-ranking official in an American administration ever to visit the site, he paid respects to the victims of one of the most devastating acts of World War II and reflected on how Japan and the United States have forged a strong alliance over the past 70 years. NY Times >>
Progress and Continuing Challenges in National Preparedness Efforts
From fiscal years 2002 through 2015, DHS awarded over $40 billion for preparedness grant programs to enhance the capabilities of state and local governments to respond to emergencies and disasters. GAO >>
Mental Health Care in Emergencies 'Not an Optional Luxury': Experts
Mental illnesses are the world's leading cause of disability affecting millions and, even during a humanitarian crisis, treating them is not an optional luxury, experts said before a World Bank/World Health Organization meeting on the issue in Washington this week. Reuters >>
Crews Respond to Hazmat Situation at the Ports
Emergency crews were dispatched to a Hazmat situation at the Georgia Ports early Tuesday morning. This all happened around 2 a.m. Tuesday morning when a container fell from a ship at the Garden City Terminal. It was leaking a hazardous material. Emergency crews responded and quickly contained the situation. Tucson News Now >>
Caging Chemical Weapons
Organophosphorous chemical weapons, such as sarin and soman, interfere with signals between nerve cells, and have recently been used to deadly effect in places such as Syria. Researchers are therefore trying to develop techniques that detect these chemical weapons in the environment, and destroy them. Scientific American >>
List of Agent Orange-Related Diseases May Expand
The Veterans Affairs Department is weighing whether to add several diseases to the list of health conditions presumed in Vietnam veterans to be caused by exposure to Agent Orange. A VA working group is studying a report issued in March by the Institute of Medicine to determine whether bladder cancer, hypothyroidism and Parkinson's-like symptoms. Military Times >>
Are Japan's Counterterrorism Forces Really Ready?
When an escaped zebra was chased down by police in Gifu Prefecture last month and died after being shot with a tranquilizer and falling into a pool, I couldn't help but think of the drills Tokyo's Ueno Zoo has conducted depicting the escape scenario. Why did Ueno Zoo use a zebra? Zoo worker Yumi Tamura told reporters that a zebra panics easily. I bet the Gifu police didn't know that. Japan Times >>
Focus on Forensics
In her 24 years of service at Dstl, Sharon has worked on a number of well-known cases – including IRA attacks, the Glasgow Airport terrorist attack and the London bomb attacks in July 2005. She also served as the UK forensic lead for support to the Bali Bombings in 2002. Sharon has expertise in examining devices and explosive effects and works alongside other forensic experts, making sure the FEL is recognised nationally and internationally as a centre of excellence. Gov.UK >>
Maine Veterans Facing Cancer Hoping That 'Atomic Veteran' Bill Becomes Law
Congress is considering a bill that would create a special "atomic veteran" designation for the men and women who worked to clean up nuclear waste from a South Pacific atoll nearly 40 years ago, a move that Maine veteran Paul Laird says was a long time coming. But Laird, a 59-year-old from Otisfield who served with the U.S. Army's 84th Engineer Battalion on Enewetak Atoll and who is a three-time cancer survivor, said that the bill has only a slim chance of becoming law — and that is not acceptable to him. Bangor Daily News >>
NNSA to Conduct Aerial Radiation Assessment Survey Over Boston Area
On April 12 through April 15, the U.S. Department of Energy's National Nuclear Security Administration's (NNSA) will conduct low-altitude helicopter flights around Boston to measure naturally occurring background radiation. NNSA >>
John Kerry Will Not Offer US Apology for Wartime Atomic Bomb During Japan Visit
John Kerry will not offer an apology for the United States' use of the atomic bomb against Japan when he becomes the first US secretary of state to visit the Hiroshima Peace Memorial museum on Monday, a senior US official said. Kerry is visiting the city, which was obliterated by a US atomic bomb on 6 August 1945, to attend a gathering of foreign ministers from the Group of Seven (G7) advanced economies that Japan opened on Sunday with a call to end nuclear weapons. The Guardian >>
Belgian Tests for Bioweapon on Suspect Prove Negative
Belgian police tested materials found on an Islamic State suspect for signs he was trying to make biological weapons but found the mixture posed no such threat, the public prosecutor said on Friday. Newspaper La Derniere Heure said Abderrahmane Ameuroud, shot and arrested three days after the Islamic State suicide bombings in Brussels, was carrying a plastic bag in his rucksack that contained animal testicles and excrement in what police believe may have been a crude attempt to cultivate noxious bacteria. Reuters >>
A Terrorism Threat at Nuclear Plants
Though President Obama was a leader in highlighting the vulnerability of nuclear materials at the recent Nuclear Security Summit, his administration is subsidizing a new wave of nuclear construction here at home, and the Commerce Department's Civil Nuclear Trade Initiative is pressing to expand American nuclear exports. With a global market estimated at $500 billion to $740 billion over the next decade, both government and industry are eager to get a piece of the action. Can we really afford to play both sides of this dangerous game? NY Times >>
One Person Airlifted After Plant Explosion
One person was airlifted to the hospital after an explosion Friday at Techtronic Industries in Anderson County, authorities said. Firefighters responded to the facility on 1428 Pearman Dairy Road about 12:30 p.m. when a generator malfunctioned during testing, said Anderson County Assistant Fire Chief Brian Moon. Greenville Online >>
Brussels Terror Cell 'Planned to Attack Euro 2016 Tournament'
The terror cell that carried out attacks in Paris and Brussels was reportedly planning to target the Euro 2016 football championships in France this summer. The French newspaper Libération reported that Mohamed Abrini, who was arrested on Friday, had told Belgian investigators the Islamist group had never intended to target Brussels. The Guardian >>
'We Have a Chance to Show the Truth': Into the Heart of Chernobyl
At first they thought it was just a fire, then the chickens started to turn black. When it comes to the Chernobyl nuclear disaster, everyone has a vivid detail that is snagged in the memory; the absurdities or the obscenities. It might be the local village that, once evacuated, was claimed by a mob of pigs. The Guardian >>
John Kerry Makes 'Gut-Wrenching' Tour of Hiroshima Peace Park
John Kerry has become the first US secretary of state to visit the Hiroshima peace park, more than 70 years after the city was devastated by the world's first atomic bombing. Kerry, who laid a wreath at the cenotaph for the victims of the bombing, did not offer an apology for the bomb, which killed about 140,000 people. The Guardian >>
We Need to Speak Honestly About Nuclear Threats
The fourth and final Nuclear Security Summit meeting, held in Washington DC, has been the catalyst for a flood of op-eds bemoaning either the imminent emergence of sub-state groups as nuclear powers or the relative lack of progress that President Obama has made on reducing the number of U.S. nuclear weapons. Both of these views are shortsighted, ignoring the actual threat in context to contemporary national security issues. War on the Rocks >>
Farming: Microbiology-Style with a CBRN Twist
Not everyone can say they are a "farmer of bacteria" in their civilian job and be sincere about it. Capt. Christopher Ecker, a 7-year Army Reserve chemical officer assigned to the 307th Medical Brigade in Columbus, Ohio, can say that with a smile. DVIDS >>
IAEA Advises Lithuania on Project Risks of Ignalina Nuclear Power Plant Decommissioning
The ongoing initiative to decommission Lithuania's Ignalina Nuclear Power Plant (INPP), set to last another two decades, should include plans for potential project risks to ensure that future costs and scheduling remain realistic, according to an IAEA-led expert mission that concluded today. IAEA >>
Consequences of Gas Leak Could Lead to California Blackouts
A natural gas well blowout last year that crippled a major energy supply for Southern California could lead to blackouts in the region over as many as 14 days this summer, energy officials said Tuesday. State agencies that studied the impact of the partial shutdown of the Aliso Canyon gas storage field proposed an action plan to prevent power outages but concluded they "will reduce, but not eliminate, the risk of gas shortages this summer that are large enough to cause electricity interruptions for the region's residents and businesses." Chem.info >>
Key Nuclear Security Agreement to Enter Into Force on 8 May
A nuclear security agreement that will take effect on 8 May will reduce the risk of a terrorist attack on a nuclear power plant and make it harder to smuggle nuclear material. The entry into force of the Amendment to the Convention on the Physical Protection of Nuclear Material (CPPNM) was secured today with the deposit of the instrument of ratification by Nicaragua, which brought the number of adherences to 102 States Parties to the CPPNM, the threshold required for the agreement to come into effect in 30 days. IAEA >>