More than 50 Army Reserve Soldiers from the 379th Chemical Company, 472nd Chemical Battalion, 209th Regional Support Group, 76th Operational Response Command, spent the past couple of days in Orogrande, New Mexico conducting a series of decontamination operations with active duty Army Soldiers from the 1st Brigade, 1st Armored Division.
The Soldiers of the 379th Chem. Co, wasted little time in integrating into the 1st Armored Divisions's training exercise, and within 24 hours of arriving at the training area, they were called into action.
"Our mission here was to provide decontamination support to the 1st Armored Division in order to enhance their skills, increase their mission readiness and their understanding of what we do," said Capt. Andrew Deal, company commander of the 379th Chem. Co., 472nd Chem. Bn. "The goal was to do that by providing opportunities to engage in potential chemical, biological, radiological and nuclear (CBRN) hazard operations."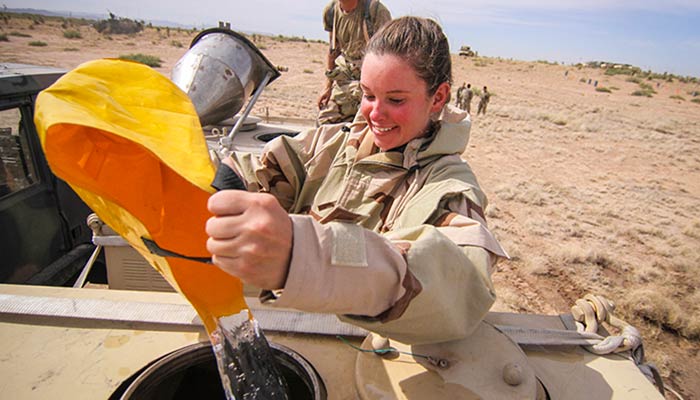 "We received notification that a unit had been hit with a nerve agent and we were given their location," said Capt. Andrew Deal, company commander of the 379th Chem. Co., 472nd Chem. Bn. "After conducting a reconnaissance of the area and going through our troop leading procedures, we began setting up to conduct the decon to process vehicles and troops."
The company set up three vehicle decontamination lanes and two personnel decontamination areas. The vehicle lanes allowed Stryker vehicles to drive in, be sprayed down with water to rid them of any possible chemical contaminants, and then drive out to return to the battle.
Soldiers who may have been exposed to the hazardous agents were led to a decon area where they were able to quickly exchange their potentially contaminated Mission Oriented Protective Posture (MOPP) gear for new gear. The entire process is designed to allow the Soldiers to return to the fight as quickly as possible.
Within a few hours, the team had decontaminated 12 Stryker vehicles and had processed more than 60 Soldiers through the decon procedures.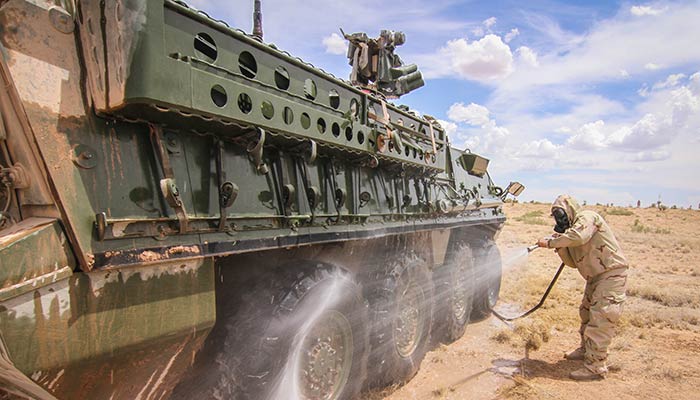 Shortly after sunrise on day two the Soldiers of the 379th Chem. Co. were once again gearing up and preparing to decon more vehicles and personnel. By 6 a.m. they had established two vehicle decon lanes, two personnel decon areas and were busy conducting decon procedures for Stryker vehicles and Soldiers. Within a matter of hours the unit had provided decontamination to 12 Stryker vehicles and more than 40 personnel.
One of the Soldiers going through the decon training was Pvt. 1st Class Andrew Johnson, a medic and native of Mililani, Hawaii assigned to the 501st Brigade Support Battalion, 1st Brigade, 1st Armored Division. "It's been awhile since we've done any CBRN training so it's definitely good to have this opportunity," he said "I have a lot of respect for the Soldiers out here doing this wearing full MOPP suits in 100 degree temperatures."
With the two-day mission now behind them, Deal looks to the future and is hopeful the Army Reserve will do more of this type of training. "I think we should absolutely do more of this multi-component CBRN training in the future," he said. "CBRN is a real-world threat in today's environment and we have to be trained and ready to encounter that threat."
Adapted from story by Brent Powell, 76th U.S. Army Reserve Operational Response Command.