The West Virginia National Guard had numerous significant accomplishments in 2019 that included homeland and disaster response missions, deployments around the globe, innovative training and the forging of new partnerships at home and abroad.
Soldiers and Airmen supported such events as hurricane recovery efforts in South Carolina, flooding response in the Eastern Panhandle and continued to build upon our international partnerships in Peru, Qatar, and the Baltic states. In addition, the WVNG deployed more than 1,500 individuals in support of contingency operations and state active duty support.
The 35th Civil Support Team (Weapons of Mass Destruction) completed more than 74 missions supporting multiple state and federal partners in Chemical, Biological, Radiological and Nuclear (CBRN) and hazardous material response operations, which included a real-world response to Stevens Correctional Facility in McDowell County for an unknown white powder incident.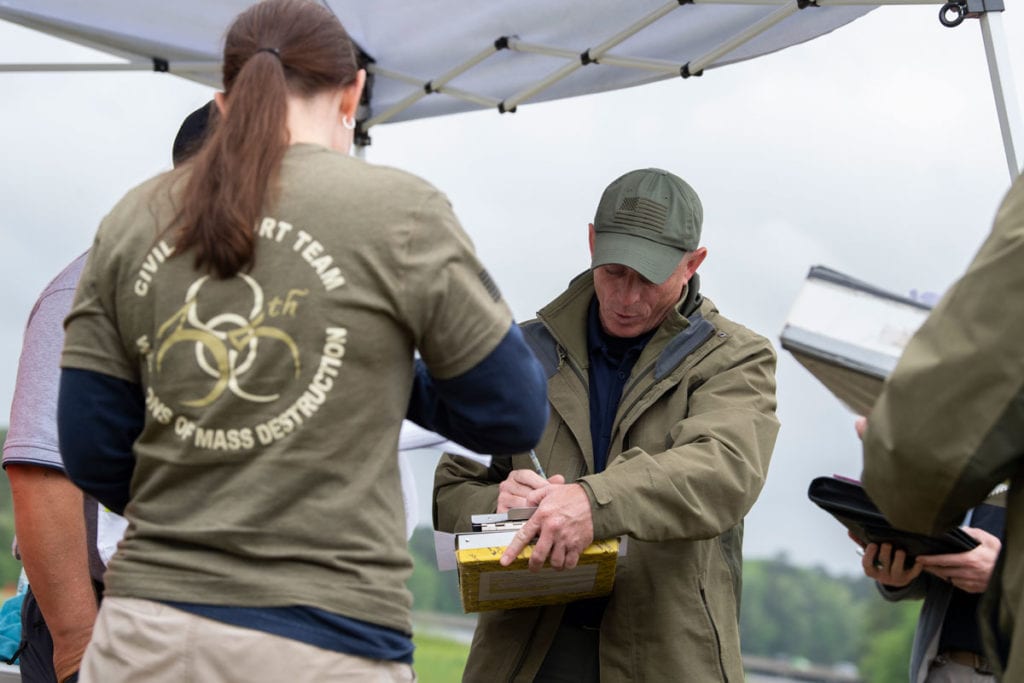 The 753rd Explosive Ordnance Disposal Company completed over 13,000 man-hours of work during a nine-month deployment to Afghanistan. The unit disposed of more than two million ordnance items, conducted over 50 named operations, removed over 40 Improvised Explosive Devices from the battlefield and conducted more than 200 route clearance patrols.
The 130th Airlift Wing led a multi-state domestic operations exercise, SENTRY STORM, featuring four total-force Air Force units, which tested readiness for mass casualty and medical evacuation scenarios as well as tactical flying requirements necessary for operating in a deployed environment.
Nearly 1,500 Soldiers and Airmen deployed in support of contingency operations for Operation Freedom Sentinel, Operation Inherent Resolve and Operation Spartan Shield in 2019.
Both the 130th Airlift Wing and 167th Airlift Wing deployed personnel in support of state, Air Force and joint/interagency operations and exercises in Antarctica, Austria, Bosnia, Canada, Germany, Iceland, Ireland, Italy, Japan, New Zealand, Niger, South Korea, Thailand, and Turkey. Additional personnel supported operations in the U.S. Central Command, U.S. European Command and the Indo-Pacific Command in 2019.
"Once again, the West Virginia National Guard has proven to be a leader across the National Guard. This was demonstrated in 2019 through the work of our 6,400 Soldiers and Airmen who work each day to secure and strengthen our great state and enhance our nation's National Defense Strategy, both at home and abroad."

Maj. Gen. James Hoyer, the Adjutant General of the WVNG
More than 500 members of the 1st Squadron, 150th Cavalry Regiment, and 1st Battalion, 201st Field Artillery Regiment were federally activated in November and deployed to the Middle East as a part of the 30th Armored Brigade Combat Team in support of Operation Spartan Shield.
Special operators from the state concluded deployments and training exercises in the European Theater, Nepal, Poland, Taiwan and Bosnia. All missions were an extremely valuable opportunity to broaden U.S. influence and continue to further build relationships on the international stage.
The Army Interagency Training and Education Center's (AITEC) CBRN Battalion trained more than 8,936 Soldiers and Airmen in domestic CBRN response across the nation. The AITEC Critical Infrastructure Battalion (CIP) also conducted training and assessments for nearly 7,500 personnel directly involved in the protection of critical infrastructure and key resources throughout the nation.
The 1092nd Engineer Battalion deployed personnel to Romania as part of Resolute Castle 2019, a multinational joint training exercise for North Atlantic Treaty Organization (NATO) and U.S. Army engineers that supports Atlantic Resolve, a demonstration of the United States' commitment to the collective security of Europe.
The West Virginia-Peru and West Virginia-Qatar partnerships completed 42 engagements this year focused on Non-Commissioned Officer Professional Development, engineering projects, humanitarian assistance/disaster relief, Global Peace Operations Initiatives, CBRNE response and Tactical Combat Casualty Care.
The WVNG Counterdrug Task Force flew more than 693 hours in 2019 supporting counter narcotics missions, which facilitated law enforcement officials eradicating and seizing illegal drugs and assets valued at over $1 billion.
In 2019, The Department of Army Management Office – Cyber selected the WVNG's CIP Battalion, along with the National Security Administration, U.S. Army Corps of Engineers, and 1st Information Operations Command, to conduct Cybersecurity Mission Assurance Assessments of its critical infrastructure in support of a Congressional directive.
WVNG STARBASE programs provided 152 academies with focused STEM curriculum serving more than 3,700 students in Kanawha, Berkeley and Jefferson Counties.
The West Virginia National Guard has supported the West Virginia Division of Homeland Security and Emergency Management (DHSEM) in successfully addressing over 90% of audit findings from 2018 and 2019, positioning the Division to better respond to emergent and non-emergent events for the State. Additionally, the WVNG has shared best practices for financial policies and procedures, organizational structure, human resources and payroll for DHSEM.
While the year was full of successful missions and continued innovation, the WVNG lost two Soldiers this year: Master Sgt. Nicholas Sheperty who suffered fatal injuries during a domestic training accident, and Staff Sgt. William "Billy" Friese, who died in a non-combat related incident in Kuwait.
Adapted from original story by Maj. Holli Nelson, West Virginia National Guard