Nearly 50 civilian and military disaster response stakeholders from Malaysia participated in the first Malaysian Humanitarian Assistance and Disaster Response (HADR) Civil-Military Course at the Malaysian Armed Forces Officer Mess, Wisma Perwira, April 17-19.
Supported by staff from the Center for Excellence in Disaster Management and Humanitarian Assistance (CFE-DM) in cooperation with Malaysia's National Disaster Management Agency (NADMA) and the Malaysian Armed Forces (MAF), the course designed to enhance the knowledge of disaster response stakeholders in Malaysia and operationalize civil-military coordination at the national, regional and international levels.
CFE-DM is a U.S. Department of Defense organization that was established by U.S. Congress in 1994. The Center is a direct reporting unit to U.S. Pacific Command and is located on Ford Island, Joint Base Pearl Harbor-Hickam, Hawaii.
The students received presentations by experts from CFE-DM, NADMA, International Federation of Red Cross and Red Crescent Societies, U.N. World Food Programme, Office of U.S. Foreign Disaster Assistance, ASEAN Coordinating Centre for Humanitarian Assistance, U.S. Forest Service and the U.S. Army National Guard from the state of Washington during the three-day course.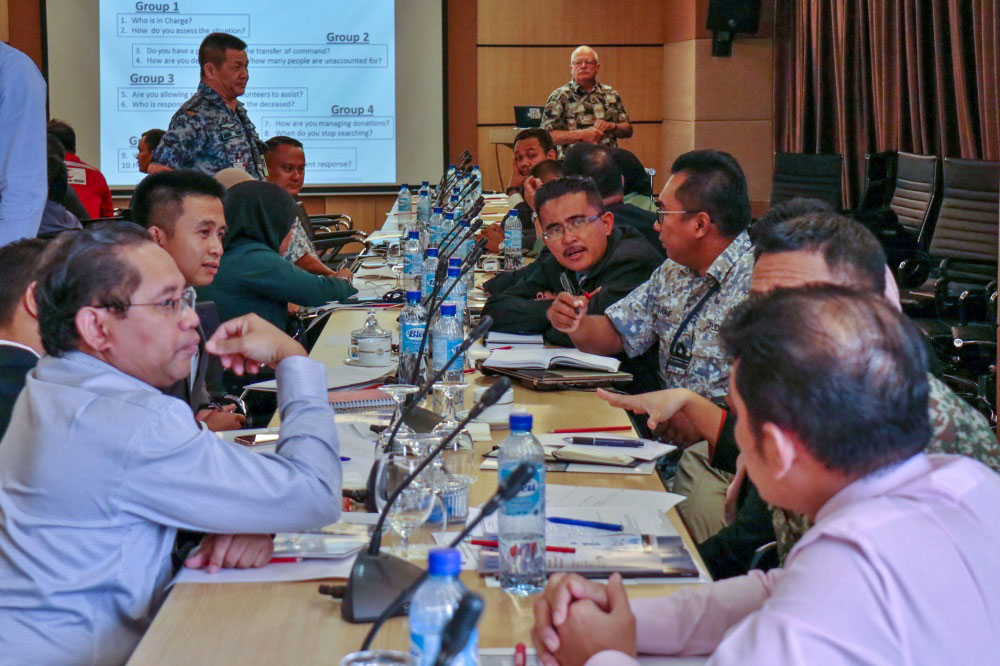 "We are happy that participants from different agencies joined this workshop," said U.S. Air Force Maj. Chyteira Dues, Operations and Bilateral Affairs Officer for the U.S. Embassy Kuala Lumpur.
The course included participants from NADMA, MAF, Heath Ministry, Foreign Affairs Ministry, Defense Ministry, and various state governments.
In addition to the presentations the students discussed case studies where they break out into small groups and have discussions on the lessons learned from real world scenarios such as the 2014 Malaysia floods, 2018 Sulawesi earthquake and the 2014 State Route 530 landslide in the U.S. state of Washington. The event culminated with a table top exercise facilitated by the Pacific Disaster Center Global, where participants applied the variety of concepts learned during the course.
"There are many things that the U.S. can share with Malaysia," said Dues. "We can provide assistance by sharing knowledge, information, and experiences. We can focus on lessons learned from previous disasters so we can be better prepared for the future."
NADMA was officially formed 1 October 2015 with the consolidation of the Disaster Management Division of the National Security Council, Post-Flood Recovery Unit of the Prime Minister's Department and the Special Malaysia Disaster Assistance and Rescue Agency.
Adapted from DoD story by Theanne Herrmann and information from the National Disaster Management Agency of Malaysia