More than 200 Soldiers, Airmen, and Sailors responded to simultaneous mock chemical attacks last month during joint training on land at Fort Hood, Texas, and shipboard at Norfolk, Virginia.
Working with test officers and data collectors of the Operational Test Command based at West Fort Hood, Texas, they tested the Next Generation Chemical Detector (NGCD), Oct. 24 through Nov. 17.
The NGCD is a multi-service system used to assess Chemical Warfare Agents, Toxic Industrial Chemicals, and Non-Traditional Agents. The detectors are intended for use by the military for a wide range of missions.
The Soldiers who participated in the test were from the 181st Hazard Response Company, 2nd Chemical Battalion, 48th Chemical Brigade, Fort Hood, Texas. The Sailors shipboard were two damage control teams from Expeditionary Strike Group 2, USS Bataan (LHD 5), Norfolk Naval Station. Two Air Force chemical, biological, radiological and nuclear defense teams were formed by units from Malmstrom Air Force Base, Great Falls, Montana; Minot Air Force Base, Minot, North Dakota; and Barksdale Air Force Base, Bossier City, Louisiana.
"We're collecting specific data necessary to inform the program manager and the services with information on the effectiveness, suitability, and survivability of the NGCD systems," said Eric Graham, an operational research analyst with Operational Test Command.
Systems from three NGCD increments were employed during the early operational assessment, according to Cpt. Christine Miller, a member of the Maneuver Support and Sustainment Test Directorate at Operational Test Command.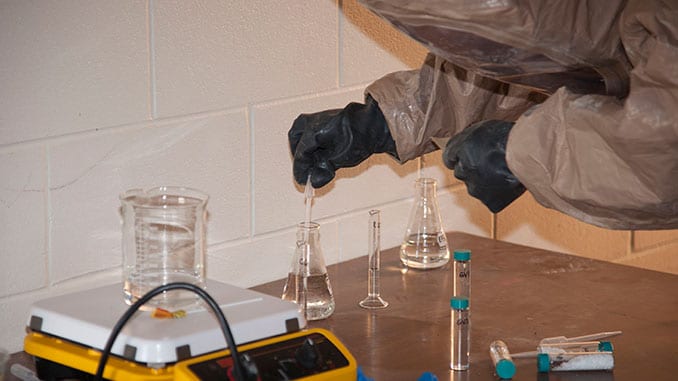 The testing, which used pre-production prototypes, proved to be an excellent learning opportunity for everyone involved, noted Miller.
"For the Sailors, the test provided them with many unique training challenges that are not ordinarily experienced during land missions," Miller added, "because the scenario called for a ship sustaining a 122-milimeter rocket attack of a suspected chemical agent."
Miller said the Sailors appeared to enjoy the break from their routine jobs to train on their chemical, biological, radiological and nuclear defense missions, while also incorporating the NGCD equipment into their damage control missions.
Graham contends that the next generation equipment must rely on the combined team approach to identify any joint operational gaps between the armed services.
"The test also takes a look at human factors and the assessment of tactics, techniques and procedures used," he said. "Our data collection efforts will ultimately assist in the manufacturing, development, and production of critical chemical detection equipment for the Department of Defense."
Article adapted from original by Heidi Watts, Chief, Maneuver Support Division, Maneuver Support and Sustainment Test Directorate, Operational Test Command Public Affairs. Edited for context and format by CBRNE Central.