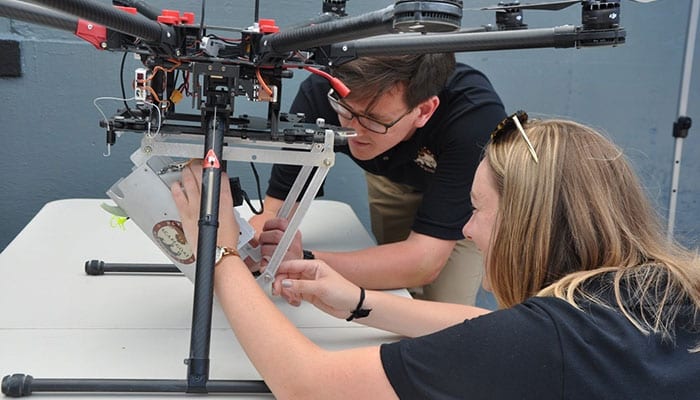 The Sly Fox program is an Naval Surface Warfare Center Dahlgren Division  (NSWCDD) Naval Innovative Science and Engineering funded rapid prototyping program intended to develop the science and engineering workforce while applying their talents to known technology gaps in areas including directed energy, radar systems, unmanned systems, and cyber threats.
The latest iteration – Sly Fox Mission 21 – was an intensive collaboration of seven junior scientists and engineers that resulted in a system called Senses CBR Agents Pre-Engagement and Goes Over All Terrain (SCAPEGOAT). The modular CBR detection system accommodates multiple sensor modules across multiple UAV platforms, enabling Sailors to better protect themselves from the increasing frequency of CBR attacks by relaying threat data to command and control assets.
Hundreds of Navy civilian and military personnel witnessed this reality as the mission culminated with a technological capability demonstration on the Potomac River Test Range, June 15.
"One of the secrets to the Sly Fox Program's success is the makeup of the team – using scientists and engineers with fresh perspectives from a wide array of technical disciplines helps identify solutions that otherwise may not be apparent," said Kevin Cogley, head of the NSWCDD Chemical, Biological, and Radiological (CBR) Detection Branch.
The team of mentors – senior NSWCDD scientists and engineers – ensured a strong focus on technical rigor as they taught the Sly Fox team how to perform under pressure.
"The program is challenging, both to the home organization and to the employee," said Mary Collings, head of the NSWCDD Gun Prototyping and Rapid Fielding Branch and supervisor of one of the Mission 21 team members. "It enables employees to experience the development of a system from beginning to end. They start with requirements and finish by demonstrating a product."
Throughout the demonstration, spectators looked at the horizon over the Potomac River and viewed monitors to see the SCAPEGOAT system onboard a commercial octocopter UAS platform detect and report the presence of chemical simulants.
"It directly addresses a real warfighter need for low cost, flexible CBR early warning technologies," said Cogley, a Sly Fox process mentor. "While other organizations and industry have demonstrated similar capabilities, the SCAPEGOAT's low cost and ability to operate with multiple UAV platforms and CBR sensors is the unique quality that sets it apart from other solutions."
Early in the design phase, the team decided to integrate existing CBR detection technology into SCAPEGOAT, avoiding major modifications of CBR sensors and UAS platforms that involve strict payload weight limitations. Their decision led to a system design with three interchangeable mission modules – one each for the chemical detection, biological, and radiological detection capabilities.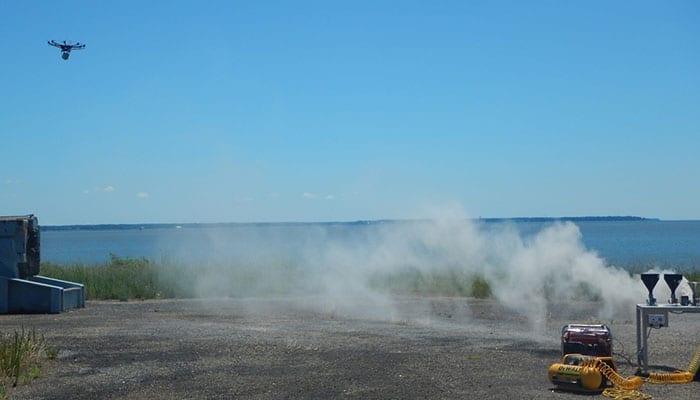 Moreover, the chemical and radiological detection modules are compatible with currently fielded military sensors. The biological collection unit is a custom NSWCDD-designed module compatible with currently fielded filter media that uses a 12-volt fan to pull air through the system. In addition to CBR detection systems, SCAPEGOAT features modules for communications, a global positioning system, camera, and power.
"To actually experience the full development of a program in such a short timeframe, from defining requirements to testing and evaluation, has been enormously enlightening," said Charles Miller, NSWCDD scientist. "I learned a lot about the DoD acquisitions and rapid prototyping processes. This entailed striking a balance between the well-defined procurement process and the need for maximum flexibility in rapid prototyping."
DoD and government officials attending the demonstration represented commands and agencies that included the Chemical Biological Incident Response Force, Joint Program Executive Office for Chemical and Biological Defense, Marine Corps Systems Command, Marine Corps Forces Command, Office of the Assistant Secretary of Defense for Nuclear, Chemical, and Biological Defense Programs, Defense Threat Reduction Agency, Naval Research Laboratory, Pentagon Force Protection Agency, U.S. Coast Guard, Naval Sea Systems Command, and the Office of the Chief of Naval Operations.
Article adapted from original by John Joyce, Naval Surface Warfare Center Dahlgren Division.