Experiments to test incremental solutions that will give joint forces more warning of chemical, biological, radiological and nuclear weapons on an accelerated timeline.
In an unpredictable location, which could be an urban center in Syria or a semirural suburb like Salisbury, England, a chemical, biological, radiological or nuclear (CBRN) event will happen, again. Such an event could mean devastating losses for U.S. forces if they have no warning or protection from weapons of mass destruction.
That is why the Joint Program Executive Office for Chemical, Biological, Radiological and Nuclear Defense (JPEO-CBRND) established an Experimentation Directorate in 2017–to improve the acquisition cycle and free DOD to counter threats, quickly. Advances in technology have made it easier for state actors to develop and employ weapons of mass destruction (WMD) and other CBRN threats. Now DOD is reforming bureaucratic policies that have impeded the United States' own technological advances to prevent and protect against such threats.
JPEO-CBRND's Experimentation Directorate seeks to improve joint force capabilities to defend against WMD threats, using incremental or evolutionary solutions. Experimentation–whether in the laboratory or field-testing new equipment with joint forces–is a faster way to establish how best to use technologies to counter WMD threats than the traditional cycle of development, testing and, ultimately, deployment. Experimentation will help DOD get ahead of the threat rather than reacting after a WMD event by managing the consequences.
For JPEO-CBRND, it is a vital step toward providing early warning, situational awareness and understanding of asymmetric and unpredictable threats to the nation's security. Experimentation offers a structured approach to improve tools, adopt new processes, and assess and deliver available technologies to joint forces on the multidomain battlefield.
In remarks Oct. 10 at the annual meeting of the Association of the United States Army, Gen. Mark A. Milley, Army chief of staff, described this "significant streamlining of processes" as a "shift to a U.S. Special Operations Command-like model of buy, try, decide and acquire." Both the National Defense Strategy and the JPEO-CBRND's strategic guidance on acquisition call for streamlining rapid iterative approaches to reduce risk and cost. This includes championing prototyping and experimentation before refining requirements. That is the Experimentation Directorate's mission.
JOINT, INTEGRATED PICTURE
The new directorate is managing an enhanced capability demonstration as part of the JPEO's larger integrated situational-understanding campaign. The objective of the campaign is to develop an integrated chemical and biological early warning capability using mostly nonmateriel and a few materiel solutions. These solutions combine existing sensor technologies, information threads and advanced algorithms from multiple battlefield domains into a novel decision management framework for operational use. Never before have disparate information threads come together to provide courses of action to joint forces confronting WMD threats.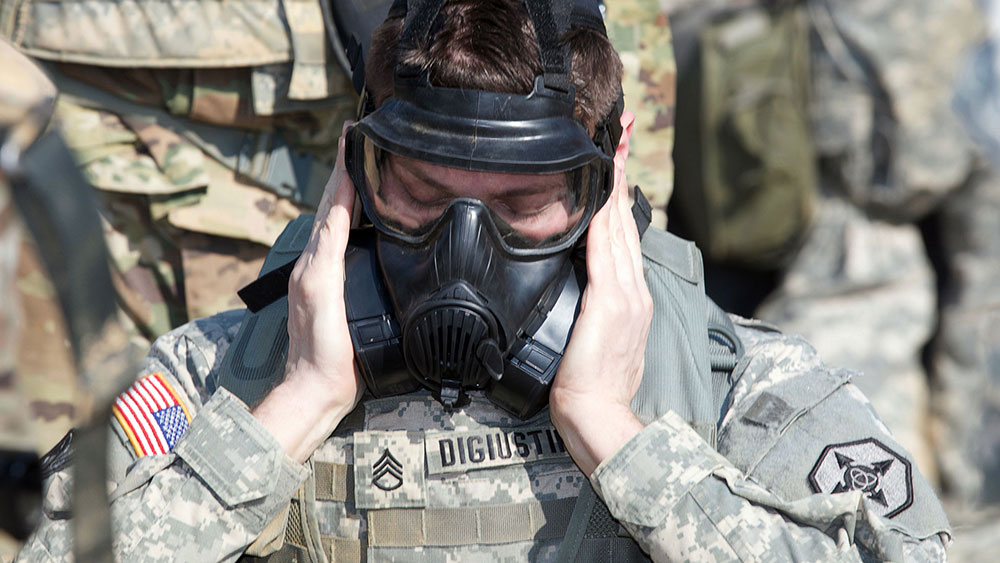 The intent is to give joint forces more warning time and more options in the event of a chemical or biological attack. Increased warning time allows them to don their protective masks and consider options such as moving upwind or around the attack, thus maintaining their freedom to act, move and maneuver while accomplishing the mission.
A successful integrated situational-understanding campaign requires three improvements to the existing decision-making infrastructure, and the development and fielding of a fourth piece:
More timely delivery of CBRN information to the joint forces. Seconds count in warning of an attack; it takes at least 10 seconds to put on a protective mask, for example.

– A more robust information network drawing from a wider variety of sources, such as non-CBRN counterbattery radar sensors, to warn commanders of incoming rounds before they explode and disseminate chemical agents.
– A more robust way to disseminate information to and from commanders.
– Development of an automated decision tree that provides actionable outputs for commanders.
The integrated situational-understanding campaign will collect CBRN-related information threads, distribute the threads in a common operating environment among the joint forces and develop an analytical engine to weave the threads into an informative fabric, offering commanders choices of action and informing logistical considerations. The actions could include changing the joint forces' Mission Oriented Protective Posture levels, altering battlefield routes of ingress and egress, and suggesting decontamination options.
OBJECTIVE: EARLIER DETECTION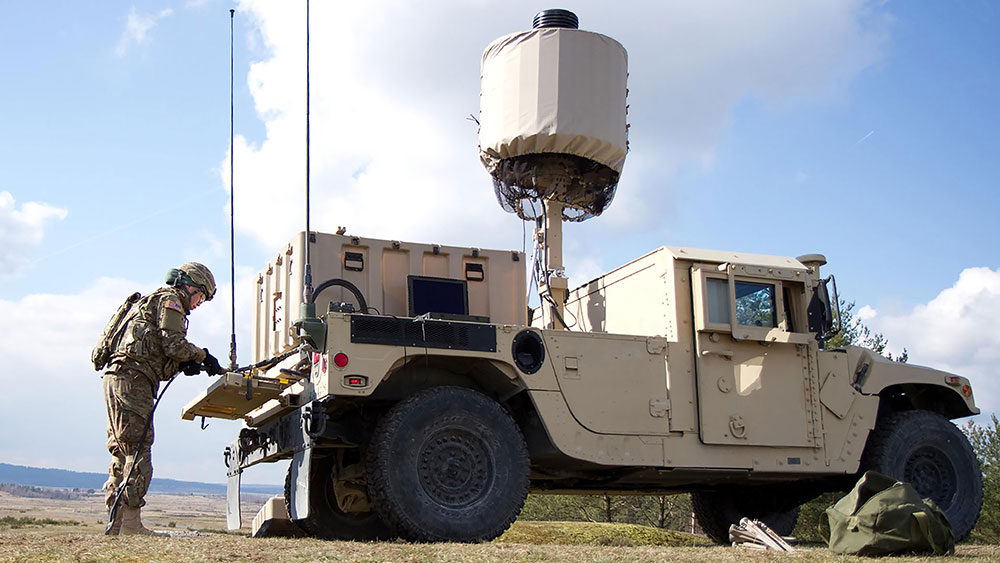 The enhanced capability demonstration, led by Experimentation Director George "Ed" Lawson, includes two experiments in FY18, with the objective to reduce risk and enable commanders to survive an event involving WMD. One experiment, which is exclusive to the demonstration, will analyze the value of real-time, radar-based information threads. In the other, the demonstration will enlist the Defense Threat Reduction Agency to study the connectivity and continuity of the common operating environment and its interfaces.
The experiment examining real-time information threads will look for CBRN information of value in existing radar-based data, such as that gathered using the fielded AN/TPQ-50 and AN/TPQ-53 counterbattery radar systems. This experiment is designed to determine if the systems can detect ordnance filled with chemical or biological weapons or material in flight or upon detonation. For joint forces, this capability could mean more warning time.
Additionally, chemical sensors deployed right of boom–just after detonation of the chemical-biological round–could be directed by radar data to stare at the point of impact to detect chemical-biological threats, rather than scanning the entire battlefield. This could also yield additional warning time.
This experiment, to be performed at the U.S. Army Yuma Proving Ground in Arizona, will use 155 mm rounds, some with conventional solid fills and some with liquid fills. (Liquid fills are characteristic of chemical-biological munitions.) The fills include triethyl phosphate (liquid), polyethylene glycol (liquid), conventional high explosives (solid) and blanks. The 155 mm rounds will be detonated in ground and air bursts to replicate possible scenarios. Among the differences to be captured from the variously filled rounds are their trajectory, wobble and post-detonation fragmentation patterns.
Contrasting the rounds' radar signatures could identify the fill as chemical-biological (liquid) or non-chemical-biological (solid). An analysis of differences in the data should illuminate the possibilities of using radar-based information threads for early warning of a chemical-biological attack.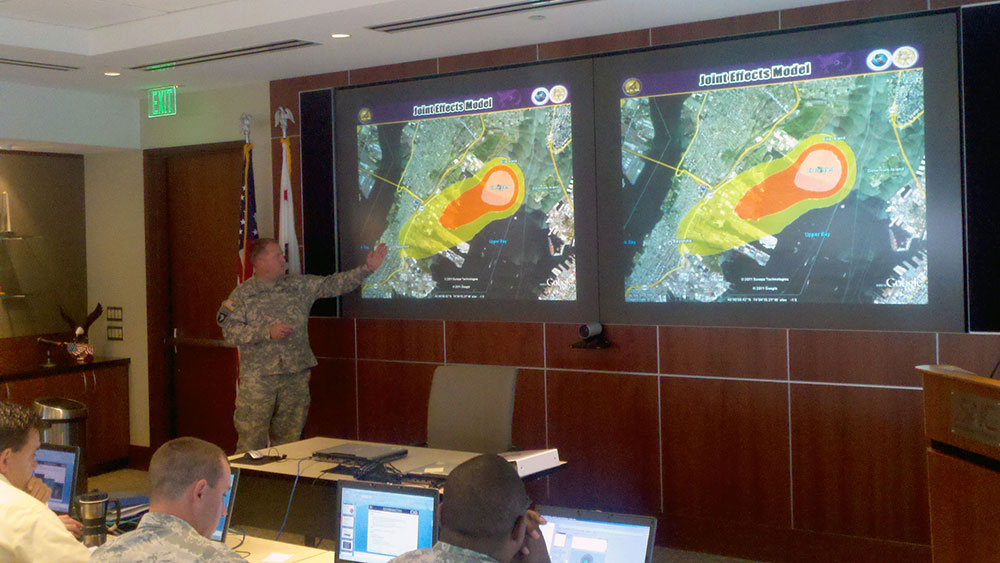 In the other FY18 experiment, the JPEO will join the Defense Threat Reduction Agency in Perceptive Dragon II. This exercise evolved from the even more obscurely named experiments called the Sophos Kydoimos Challenge.
Perceptive Dragon II will take place at Marine Corps Base Quantico, Virginia, and will examine the connectivity and continuity of interfaces in the common operating environments of the Army and Marine Corps. The field demonstration, using Army and Marine personnel and equipment, will assess the feasibility and utility of passing CBRN tactical voice and data communications between the two services for common battlefield awareness and understanding.
The connectivity and continuity of existing interfaces control the flow of data between the Army and Marines. In the Perceptive Dragon II experiment, the two services will exchange simulated radar data such as point of origin, point of impact and in-flight characteristics of suspected CBRN rounds. Knowing the point of impact allows CBRN detectors to stop scanning a wide area and focus on a single point, thus reducing the time it takes to identify a CBRN threat.
Successful interservice exchange of CBRN data will demonstrate the capability to enhance awareness and understanding, thus shortening a commander's decision cycle–the time from awareness to understanding to decision to action. Using the Army and Marines is just a start; ultimately, the development of a truly joint common operating environment will require additional experimentation involving the Navy and Air Force as well.
Another element of the experiment is to determine the feasibility of incorporating a CBRN logistics management system into the integrated situational-understanding campaign. There is no current system to record and track the amounts of contaminated classes of supply that need to be reconstituted beyond local standard operating procedures. Improved management of CBRN logistics information could improve the management of equipment by quickly answering the question: Do we have the CBRN equipment that joint forces need when they need it? The benefit to the joint forces would be to more reliably identify areas needing resupply and better understand the mission impacts.
The Perceptive Dragon II experiment also will examine a radiological and nuclear sensor interface in the legacy integrated sensor architecture, to gauge the feasibility of harvesting and distributing radiological and nuclear data between services. This will increase awareness, understanding and options for commanders' actions.
CONCLUSION
This fall, the Experimentation Directorate will analyze the data inputs, outputs and joint force evaluations. If the experiments prove successful in harvesting real-time CBRN-related information threads and distributing them among the joint forces' common operating environment, then the enhanced capability demonstration will have contributed substantially toward early warning. A successful demonstration will bring about the combination of awareness, understanding and confidence that facilitates effective, timely decision-making so the joint force can continue military operations in a CBRN environment.
Conducting experiments to establish information threads and connectivity to and from the joint forces' operating environments is a start. Additional experiments are planned for each year in FY19-21 on the decision-support tool that produces courses of action for joint forces commanders. Once the experiments have established the utility of data from counterbattery radar and radiological detectors, along with connectivity among commanders, those information threads can feed into the decision-support tool.
Future experiments will incorporate additional threads, and the decision-support tool will continue weaving the threads into an informative fabric to increase awareness and understanding and provide commanders with courses of action. Other future experiments will examine the operational relevance of these courses of action to the joint forces.
For more information, contact George "Ed" Lawson at George.e.lawson.civ@mail.mil or 410-436-8476.
MR. RICHARD NEWTON is a chemist in JPEO-CBRND's Experimentation Directorate at Aberdeen Proving Ground, Maryland. He has an M.S. in systems management from the Florida Institute of Technology and a B.A. in chemistry from McDaniel College. He is Level III certified in engineering and in science and technology management.
This article first appeared in the July – September 2018 issue of Army AL&T magazine. Edited for context and format by CBRNE Central.