World Conference on Disaster Management
June 7, 2016

-

June 8, 2016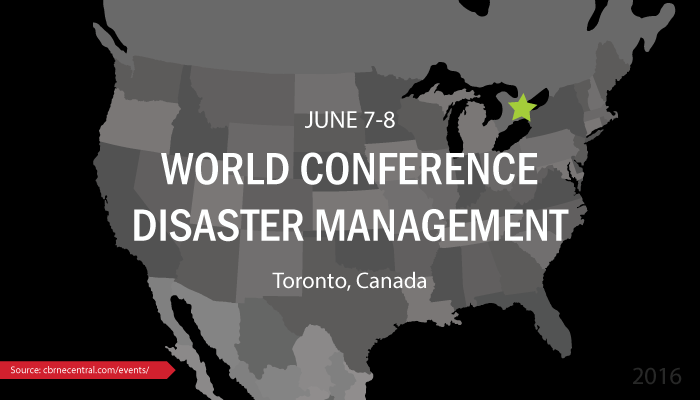 The World Conference on Disaster Management will be held June 7-8, 2016 in Toronto, Canada.
The event draws professionals in emergency management, business continuity, disaster recovery, risk management, crisis communications emergency response, and community resilience.
Highlighted conference sessions include:
Designing A Model to Respond to Radiological and Nuclear Disaster
Crisis Management – Planning and Execution
Sensemaking: Public Health Crisis Intelligence
Ebola Field Lab Outbreak Teams: Challenges and Lessons Learned
Building Business Continuity for the 21st Century
Advantages Using Unmanned Aerial Vehicles (UAV) for Disaster Management
Crisis Management Bootcamp
Building Local Networks Between Formal & Digital Responders
Effective Whole Community Digital Communications Planning
Exponential Technology Changing the Business Case for Preparedness
Saving the Day: Social Networks and Contingency Plans
Business Continuity and Resilience – Is It One and the Same?
A Practitioner's Guide to Organizational Resilience
Is a Disaster Response Strategy Empowering or Disabling?
Partnerships to Improve Preparedness, Performance, and Professional Development
Are You Prepared for the Entire Lifecycle of a Crisis?
Operation Windshield and the Simplification of Emergency Management
Mass Care Planning for the Next Refugee Population Surge
Social Networks: Key to Effective Disaster Response in Africa
Please visit the World Conference on Disaster Management website for more information and to register.