Border Security & Intelligence Summit
January 31, 2017

-

February 1, 2017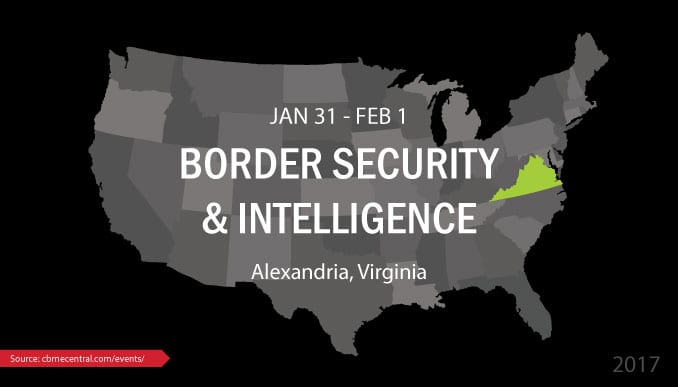 DSI's U.S. Border Security & Intelligence Summit will be held January 31- February 1, 2017 in Alexandria, Virginia.
The event aims to provide a forum for Military Services, OSD, DHS, and other federal agencies to address and improve current mission critical needs and initiatives, meet with and hear from partner organizations, disseminate vital capability requirements to industry, and engage in senior level dialogue with all in attendance while increasing visibility within the larger community.
Highlighted focus areas include:
Real time ingest, correlation, analysis, security and dissemination of all-source intelligence information
Combating illegal trafficking, narco-terrorist threats and TCOs
Strengthening joint investigations, intelligence and information sharing, and S&T cooperation
Leveraging and incorporating open source information into traditional Multi-INT analysis workflows
Countering violent extremism through improved intelligence and information sharing
Technologies for improving C4ISR capabilities within and among federal and international partner agencies
Maximizing mobile and multi-modal biometric technology innovation at the border and ports of entry
Pushing out homeland security beyond our borders
Highlighted speakers include:
Mr. John Mulligan, Deputy Director, National Counter Terrorism Center, ODNI
RADM Christopher Tomney, USCG, Director, JIATF-S
Mr. Douglas Poole, Assistant Administrator and Chief of Intelligence, DEA
Mr. Mark Borkowski, Assistant Commissioner, Office of Acquisition, CBP
Mr. Tony Crowder, Acting Deputy Executive Assistant Commissioner,Air and Marine Operations; Director The Air Marine Operations Center, CBP
Mr. John McEntee, Acting Director, Borders and Maritime Security Division, S&T, DHS
Mr. Robert D. Holman, Supervisory Management & Program Analyst, Global Initiatives Unit, CJIS Division, FBI
DSI's Border Security and Intelligence Summit is open and complimentary to all DoD and Federal employees and is considered a compliant education and training forum.
Please visit the U.S. Border Security & Intelligence Summit website for more information and registration.