SPIE Security + Defence 2016
September 26, 2016

-

September 29, 2016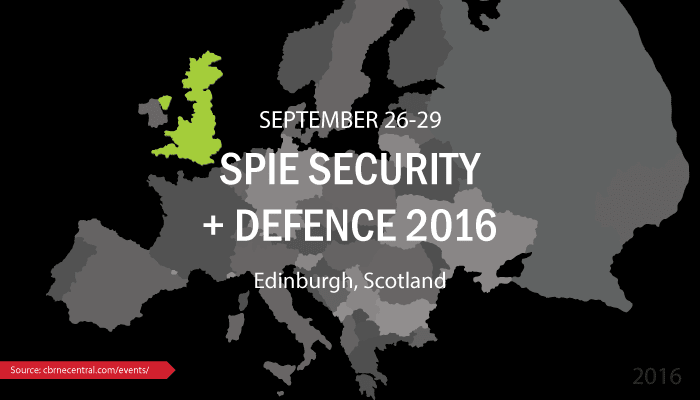 The SPIE Security + Defence 2016 Symposium will be held September 26-29, 2016 in Edinburgh, Scotland.
The event provides the opportunity for scientists, engineers, program managers and policy makers to learn about the latest trends in their focused areas.
Highlighted topics include:
Optics and Photonics for Counterterrorism, Crime Fighting and Defense
Unmanned/Unattended Sensors and Sensor Networks
Quantum Information Science and Technology
Technologies for Optical Countermeasures
High-Power Lasers: Technology and Systems
Electro-Optical and Infrared Systems: Technology and Applications
Optical Materials and Biomaterials in Security and Defense Systems Technology
Emerging Technologies
Electro-Optical Remote Sensing
Advanced Free-Space Optical Communication Techniques and Applications
Target and Background Signatures
Hyperspectral Sensing – with Virtual Program Tracks throughout
This symposium will be co-located with the 23rd SPIE Remote Sensing symposium, which enhances opportunities to identify new partners for collaboration from related fields of activity.
Please visit the SPIE Security + Defence 2016 website for more information and registration.