Trauma Innovation 2016
September 27, 2016

-

September 28, 2016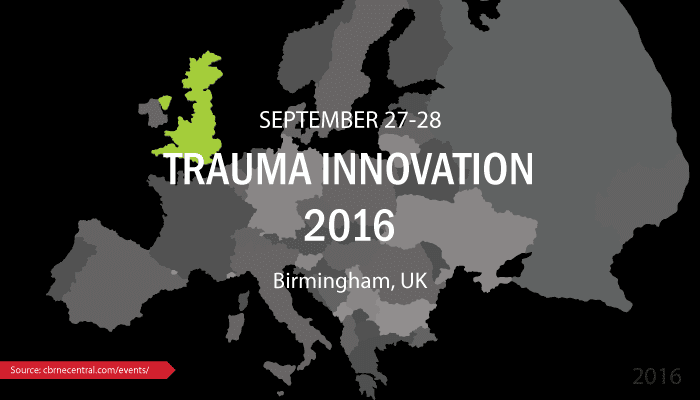 The Trauma Innovation 2016 conference will be held September 27-28, 2016 in Birmingham, UK.
For this year's event, the Defence Medical Services (DMS) and Orthopaedic Research UK (ORUK) have collaborated to produce an unrivalled forum for healthcare professionals and industry suppliers at all levels to undertake wide ranging discussions on the current directions of academic study within the overarching umbrella of military and austere trauma.
The two-day conference will focus on the areas of ballistic and blast injury, and the mitigation of musculoskeletal complications, and will include presentations from UK and internationally based civilian and military healthcare professionals.
Attendees will learn from world leading professionals in trauma care delivery, in both civilian and military settings, and discover new technologies & strategies to save lives and improve patient care.
Highlighted topics include:
Ballistic Injury, Biophysics and Clinical Effect
Injury Identification Approach to Management – Spine, Pelvis, Extremity, Foot
The Combined DCR/DCS Approach to Management
Definitive Management and Complications
Rehabilitation and Prosthetics: Lessons from Headley Court
Social Implications of Military Type Injury – Mental Health Team
Understanding The Concepts of "Left of Bang"
Protective Clothing: What Have We Learnt and How Are We Developing?
Reducing The Effects of Blast Wave Transmission in Vehicles
Concepts of Sensors and Pre-Injury Monitoring
Developing Prolonged Field Care for Contingency
In Situ Simulation: How Can We Encourage Rehearsal?
Please visit the Trauma Innovation 2016 conference website for more information and registration.