Remote Healthcare Middle East 2016
February 16, 2016

-

February 17, 2016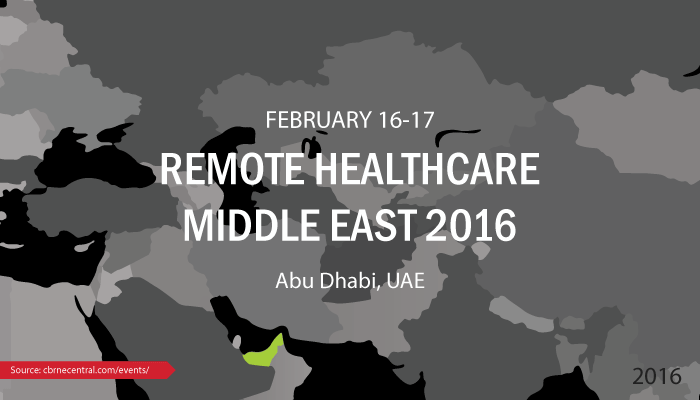 The Remote Healthcare Middle East 2016 conference will take place February 16-17, 2016 in Abu Dhabi, United Arab Emirates.
This inaugural event is dedicated to improving healthcare access, response, effectiveness and technologies for remote, austere and extreme environments.
Leaders from NGO's, NOC's, IOC's, Hospitals, Military and Health Authorities will present on the latest challenges and innovations from resuscitation and medevac to disaster crisis and security management. Over the course of the two days, delegates will have the opportunity to network, learn and engage with industry visionaries in remote healthcare.
Highlighted topics include:
Implementing preventative health surveillance in remote areas
Delivering high quality care in an austere environment
Understanding how companies can prepare and respond to an epidemic
Benchmarking levels of preparedness
Establishing a mass casualty management system
Governing quality standards in remote healthcare
Remote sensors and telemedicine to support and the greatest unresolved challenges
Role of key stakeholders and international aid in controlling an epidemic
Considering the risk areas in occupational health across harsh climates and conflict zones
Complete approach to risk management from disaster preparedness, assessment and psychology
Understanding the petroleum industry chain unique medical toxicological emergency challenges
Medevac operations from damage control to digital and tele-health advancements
Understanding the unique challenges faced by the national ambulance in remote locations
Improving point-of-care ultra-sound applications in the battlefield
Providing emergency care plans to VIP customers
Operating in remote oil and gas operations and managing diagnosis and treatment
Please visit the Remote Healthcare Middle East 2016 website for more information and to register.