Maritime Security 2016 East
March 21, 2016

-

March 23, 2016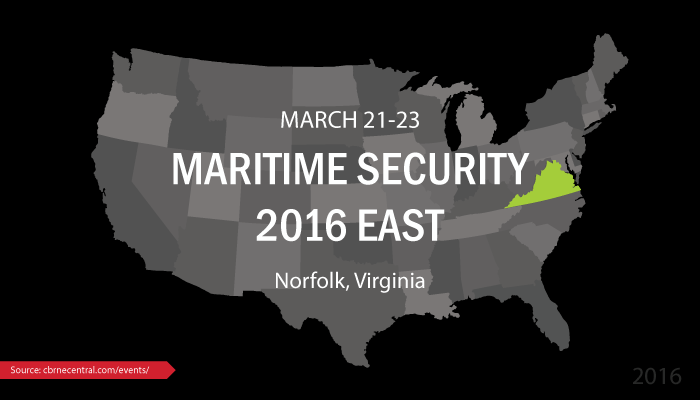 The Maritime Security 2016 East conference will be held March 21-23, 2016 in Norfolk, Virginia.
As the fourteenth maritime security conference hosted by Homeland Security Outlook since 2011, Maritime Security 2016 East furthers a commitment to address the needs of governments, law enforcement, and critical infrastructure to counter the challenges of securing coastlines, inland waterways, and their critical infrastructure.
Highlighted topics include:
The ABCs of implementing a regional preventative radiological and nuclear detection program
Using advanced technology and unmanned systems for port security and incident response
U.S. Coast Guard Sector Hampton Roads: Regional Initiatives, Successes, and Challenges
Regional Collaborative Program: The Hampton Roads Maritime Incident Response Team
How to effectively combine capabilities and assets between police and fire departments
The Search and Rescue Forum and Marine Fire Fighting School
How to effectively secure grants to enhance maritime security
Intermodal and Port Security Breakout: Bureau International des Containers introduction
International and national regimes for maritime container security
Meeting the demands of larger vessels (Post and Super Panamax) while maintaining security
How ERDI training can enhance and make your diving operations safer
The DHS Science & Technology's Integrated Maritime Domain Enterprise
The event also features an On-water Interdiction and Multi-Agency Dive Operation Exercise; Pierside and On-Water Technology and Vessel Showcase; and a U.S. Dept. of Homeland Security Science & Technology Directorate BACIS Plugfest.
Please visit the Maritime Security 2016 East website for more information and to register.