Governor's Hurricane Conference 2016
May 8, 2016

-

May 13, 2016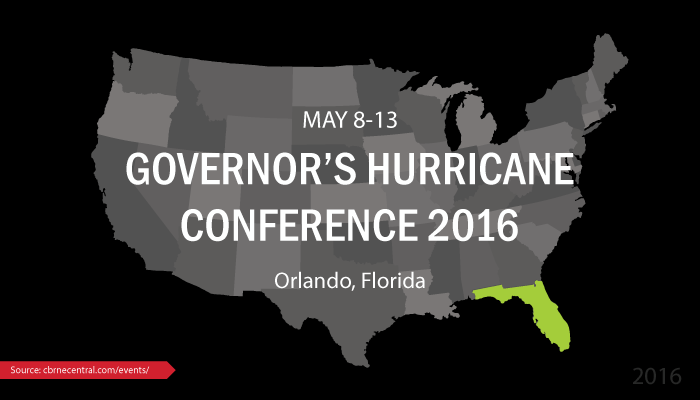 The Florida Governor's Hurricane Conference, GHC 2016, will be held May 8-13, 2016 in Orlando, Florida.
GHC is the nation's largest and best attended conference focusing on hurricane planning, preparedness, response, recovery and mitigation.
This year's training sessions, workshops, and general session will focus on innovative methods to "Reboot Readiness." Over 500 hours of training and workshops covering all aspects of hurricane readiness, full of the latest trends, topics, tools and technologies to best improve disaster response and recovery processes will be offered.
Highlighted topics include:
Open Source Coordination of Voluntary Disaster Recovery
Understanding NFPA 1600 Disaster/Emergency Management & Business Continuity Program
Hospital Incident Command System (HICS)
Florida State Role in Mass Care – A Closer Look
Ready CDC as a Program Model to Enhance Preparedness of Your Workforce
Emergency Managers for the Next Generation
American Red Cross 4496 Update
Florida National Guard and Your Military Community
Connect to Florida Virtual Business Emergency Operations Center
Red Cross Mass Care – Working with Emergency Management
Disaster Planning Priorities for Persons with Access and Functional Needs: Issues and Best Practices
DHS Office of Emergency Communications Tools
What First Responders, Emergency Managers, and Planners Need to Know from Employers about Hazardous Materials?
Receiving Evacuees from an Emergency One-Way Traffic Evacuation
Grassroots Disaster Leadership – A Resilient Strategy for Neighborhoods
Please visit the GHC 2016 website for more information and to register.