FRI 2017 Fire-Rescue International
July 26, 2017

-

July 29, 2017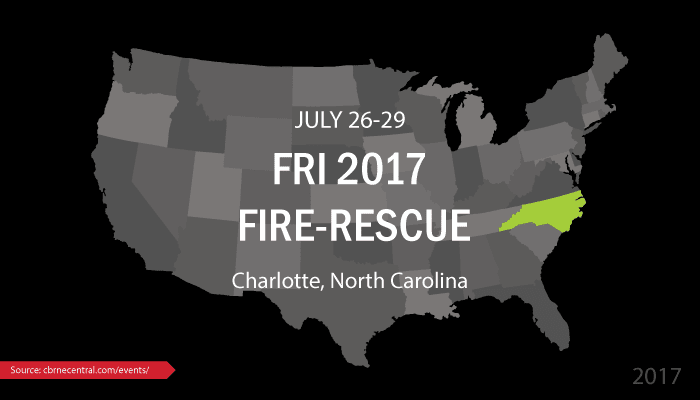 IAFC's Fire-Rescue International FRI 2017 annual conference and exhibition will be held July 26-29, 2017 in Charlotte, North Carolina.
FRI has provided senior-level leadership training to fire chiefs for 140 years. Join 10,000+ fire and emergency service leaders at this leading event.
Expected educational programs include:
Officer Development Program (ODP)
The IAFC's Officer Development Program (ODP) was designed to prepare officers at various levels for future career advancement while giving them the leadership skills to excel in their current position.
The program was designed to be meet Job Performance Requirements (JPRs) as outlined in NFPA 1021 and follows leadership standards published in the Officer Development Handbook.
Chief Officer Leadership Symposium (CHIEF)
The Chief Officer Leadership Symposium program consists of two levels, one for those new to the role and the other for more veteran officers. Attendees learn from instructors with years of fire and emergency service and life experience in areas such as community risk reduction, human resources, operations, and health and safety. CHIEF learning objectives support JPRs outlined in NFPA 1021 (Fire Officer III and IV) and the IAFC Self-Development Dimensions.
Executive Chief Officer Leadership Symposium (ECO)
The Executive Chief Officer Leadership Symposium is made up of two levels preparing chief officers looking to move into the role of fire chief in the future. The courses in this program focus on marketing within your community, research and data, mutual aid, and consolidation and mergers. Attendees get the opportunity to learn from business executives and successful chiefs who share insight about how to excel as a leader at the highest level.
High-Impact Training (HIT) at FRI 2017
HIT will focus on Stress Exposure Training (SET) a high impact, fast paced, hands-on class which gives the participant the ability to understand the connection of the mind and body to the physical and environmental stressors found on the fireground. Participants will understand the effects stress has on an individual's performance and decision making ability. This training program exposes participants to simulated stressors and increases their baseline stress awareness level. The goal is to prepare participants to the real-world stressors found in emergency incidents.
Please visit the FRI 2017 website for more information and registration.