ACS National Meeting 2017
August 21, 2017

-

August 25, 2017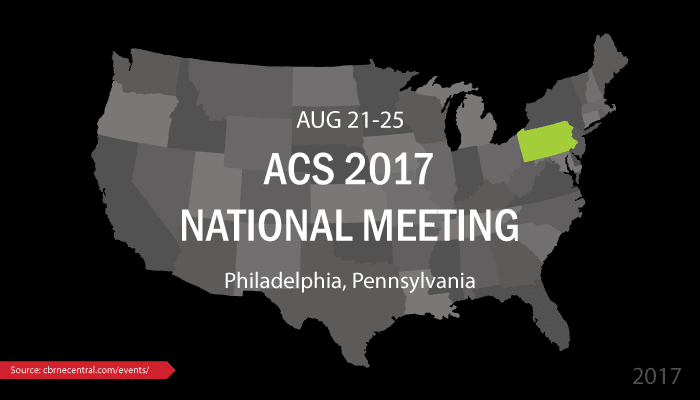 The American Chemistry Society's 254th ACS National Meeting & Exposition will be held August 21-25, 2017 in Philadelphia, Pennsylvania.
The event features more than 7,000 presentations and draws an estimated 11,000 to 13,000 chemists, chemical engineers, academicians, graduate and undergraduate students, and other related professionals.
Expositions at the national meetings give attendees the chance to meet more than 250 exhibitors, many of whom are showcasing new technological developments. A number of exhibitors also offer free workshops during the meeting so attendees can learn more about these state-of-the-art technologies.
Highlighted sessions include:
Chemical Reactivity Hazards: Laboratory-Scale Recognition & Control
Division of Physical Chemistry Undergraduate Research Symposium
Structure Verification & Elucidation by NMR: Software Tools for the Chemist
Compact Mass Spectrometry: A User's Perspective
Laboratory Waste Management and Laboratory Safety
Spectroscopy Foundation to Future
Reverse Engineering of Materials & Polymers Using Infrared & Raman Spectroscopy
Structure-Based Drug Design & Ligand Modification
NMR Spectroscopy: Structure Determination of Small-Molecule Organic Compound
Analysis & Interpretation of Mass Spectral Data
Analytical Method Transfer of Pharmaceutical Products
Application of Pharmacokinetics & Safety Pharmacology for Chemists in Drug Development
Essentials of Medicinal Chemistry & Pharmacology
Chemical Engineering for Chemists
Experimental Design for Productivity and Quality in Research & Development
1-D & 2-D NMR Spectroscopy
Dispersions in Liquids: Suspensions, Emulsions & Foams
Please visit the 254th ACS National Meeting & Exposition website for more information and registration.