CSWMD Spotlight: Negotiating Next Steps on Arms Control with Putin's Russia
July 29, 2021 @ 1:00 pm

-

2:00 pm

EDT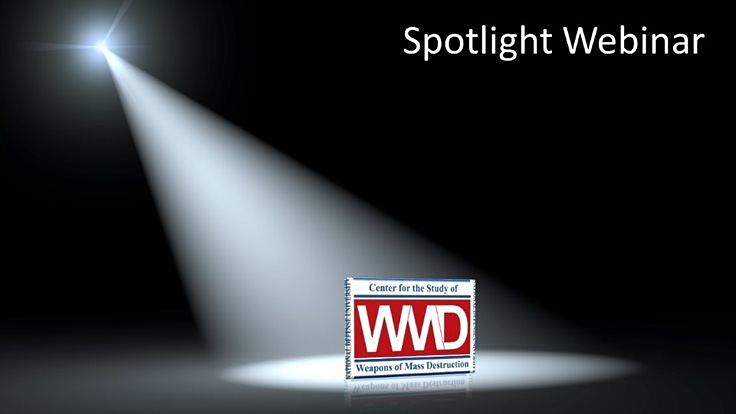 After the Summit: Negotiating Next Steps on Arms Control with Putin's Russia
Bilateral strategic arms control with Russia is a complicated and relevant topic which combines historical, technical, legal, psychological, and cultural dimensions. The extension of New START provided a five-year respite for bilateral strategic arms control, and the Biden-Putin summit intimated that discussions could begin on what to do next. There is, however, the realization of the difficulties which must be overcome in the next five years to negotiate a follow-on agreement: the place of bilateral strategic arms control in an increasingly multipolar and multidomain strategic landscape, the challenging history of the last 20 years of the U.S.-Russian bilateral relationship, Putin's thinking on arms control and strategic stability, and a difficult political environment for the ratification of legally binding agreements.
Join us on July 29 for a CSWMD Spotlight Webinar discussion on Negotiating Next Steps on Arms Control with Putin's Russia with Deputy Director, Center for Global Security Research (CGSR) Michael Albertson. This talk will attempt to provide some concrete recommendations on how to tackle some of these challenges.
If you have any questions about the event, please contact the CSWMD Admin staff at WMDCenter@ndu.edu.
Speaker Biography
Michael Albertson is deputy director of the Center for Global Security Research (CGSR) at Lawrence Livermore National Laboratory. Prior to his current position at CGSR, he served for 16 years in the federal government handling a wide variety of deterrence and arms control-related portfolios for various organizations. From November 2018 to September 2020 he was a senior policy advisor in the Office of the Secretary of Defense (OSD) in the Office of Nuclear and Missile Defense Policy, facilitating extended deterrence dialogues with NATO and Asian allies. Before OSD, Mr. Albertson worked as a team lead in the Department of State's Office of Strategic Stability and Deterrence Affairs from 2015 to 2018 on Russian strategic nuclear arms control issues including implementation and compliance of the INF Treaty and New START Treaties. He served from 2013 to 2014 on the National Security Council Staff as a director for Russia covering Russian military-security issues; from 2010 to 2012 as a policy advisor to the senior advisor for Arms Control and Strategic Stability to the Under Secretary of Defense (Policy) participating in the negotiation, ratification, and implementation of the New START Treaty; and from 2004 to 2010 as an intelligence analyst and then senior intelligence analyst in the Department of Defense studying Russian military capabilities and doctrine. He holds a B.A. in international relations and government from Claremont McKenna College, an M.S. in strategic intelligence from the National Defense Intelligence College, and an M.A. in security policy studies from George Washington University.
Moderated by Sarah Jacobs Gamberini, Policy Fellow, CSWMD.
If you would like to be the first to know about similar events, join our mailing list!