International Congress for Tropical Medicine and Malaria
September 18, 2016

-

September 22, 2016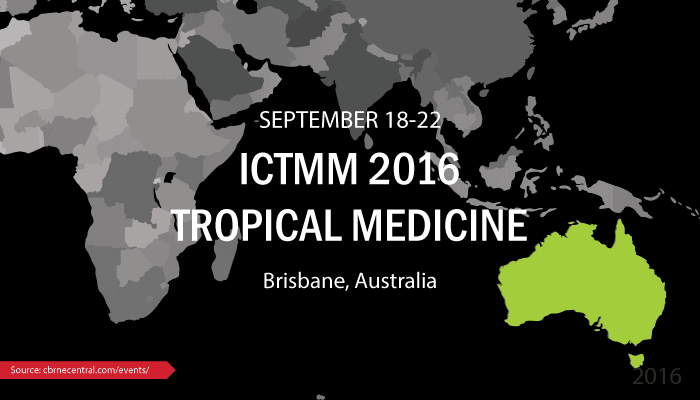 The International Congress for Tropical Medicine and Malaria (ICTMM) will be held September 18-22, 2016 in Brisbane, Australia.
The ICTMM 2016 program is comprised of two major conferences:
Australasian Society for Infectious Diseases (ASID) Zoonoses 2016 Conference
Australian Society of Parasitology (ASP) Annual Conference 2016
The event will incorporate presentations from internationally and nationally renowned speakers, prominent researchers and early career scholars who will address topics related to major infectious diseases prevalent in the tropics.
Highlighted sessions and topics include:
Infection Control Practices
Novel Methods in Modeling and Mapping of Infectious Diseases
Impact of Global Environmental Change On Infectious Diseases
Vector Biology
Disease Control Economics and Environment
Malaria Drugs and Drug Resistance
Emerging Zika Virus
Malaria Call and Molecular Biology
Rheumatic Fever and Rheumatic Heart Disease
Clinical Tropical Medicine in Australia
ASP Parasite Diagnostics
Telemedicine & Remote Medicine
Research and Training in Tropical Diseases
Please visit the International Congress for Tropical Medicine and Malaria conference website for more information and registration.