CBRNe Summit 2015
February 25, 2015

-

February 27, 2015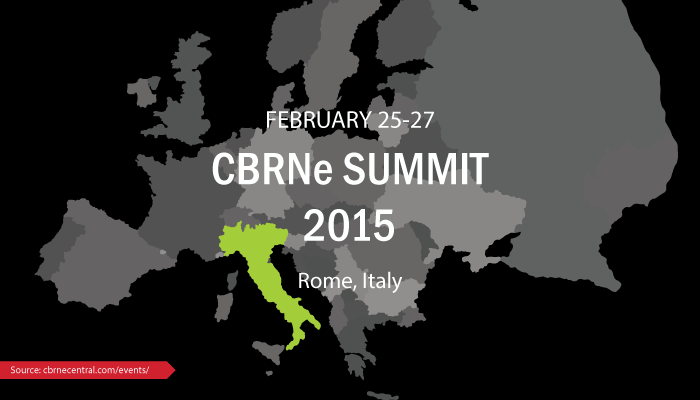 The 2nd Annual CBRNe Summit will be held 25-27 February in Rome, Italy.
The CBRNe Summit focuses on the threat of a CBRNe attack on urban population centers or infrastructure; mitigation factors; and response and forensic investigation of attacks.
Participants from the following organizations will speak at CBRNe Summit 2015:
U.S. European Command
Defense Threat Reduction Agency (DTRA)
U.S. Department of Defense
NATO EOD Centre of Excellence
NATO JCBRN Defence Centre of Excellence
Central Directorate for Anti-Drug Services – DCSA
Ministry of Interior, Italy
Directorate General of Civil Security and Crisis Management
Ministry of Interior, France
Elusys Therapeutics
Kosovo Agency on Protection from Radiation and Nuclear Safety
Emergent BioSolutions
U.S. Department of Health and Human Services (HHS)
Ministry of Health, Italy
National Department of Public Health
Italian Red Cross
Police National CBRN Centre
NATO School, Oberammergau
Federal Agency for Defence Technology and Procurement, Germany
Federal Bureau of Investigation (FBI)
Netherlands Forensics Institute
Police National CBRN Centre (PNCBRNC), UK
Public Health England
Observatory on Security and CBRNe Defence (OSDIFE)
CBRNe World
Istituto Zooprogilattico Sperimentale of Puglia and Basilicata, Italy
Institute for the Protection and Environmental Research (ISPRA), Italy
International Atomic Energy Agency (IAEA)
Sant'Antonio Hospital, Italy
University of Hertfordshire
National Reference Laboratory for Bioterrorism, Italy
U.S. National Intelligence University
University College of Applied Sciences in Safety, Croatia
This year's event is officially supported by: NATO JCBRN Defence Centre of Excellence, NATO EOD Centre of Excellence, Observatory on Security and CBRNe Defence (OSDIFE), University of Rome Tor Vergata and the University of the Republic of San Marino.
Please visit the Intelligence-Sec CBRNe Summit 2015 website for more information and to register.