Biological + Chemical Sensors Summit 2016
December 5, 2016

-

December 7, 2016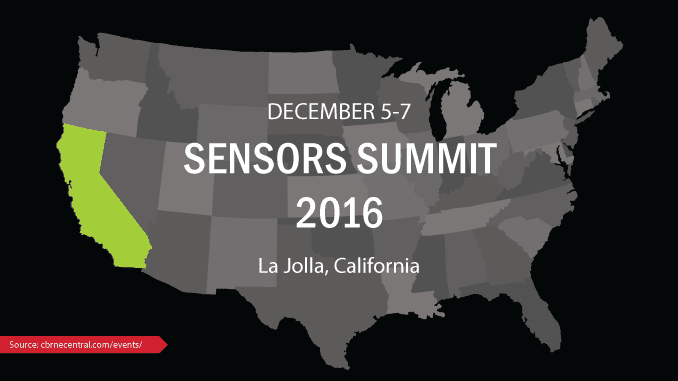 The Biological and Chemical Sensors Summit 2016 will be held December 5-7, 2016 in La Jolla, California.
Emerging technological innovations enabled by next generation sensors will define the landscape for the future commercialization of life changing products. The exponential growth of the global sensors market and the demand for next generation integrated systems is expected to reach $18 billion by 2018.
At the Biological + Chemical Sensors Summit 2016, an international faculty of key industry and academic leaders will present the latest technological advancements of real-world applications within healthcare and emerging markets through our conference tracks, symposiums and tutorials.
Highlighted sessions include:
Biological & Chemical Sensors for Emerging Applications
Coordinated Federal Effort to Amplify the Development and Commercialization of Nanosensors
Regulatory Considerations for Commercialization of Medical Devices
Emerging Applications in Wearables for Real-Time Biosurveillance
Waterborne Pathogen Detection Using a Smartphone-Based Fluorescence Microscope
Mobile Spions: Composite Micro Particles for Local Sensing
Micro and Nanoscale Printing of Sensor Platforms for Pathogen Detection
A Colorimetric Microplate Reader for Point-of-Care ELISA Quantification
Wearable Transdermal Biosensors: Understanding the Chemical Self
All Printed Stretchable Self-Repaired Wearable Electrochemical Sensors
Wearable Sensor Technologies: Their Future in Clinician Decision Making
Artificial Intelligence in Behavioral Health
Wearable Electronics: Mapping RFID Technology to Opportunities
Sensing Roadmaps for Healthcare
Please visit the Cambridge Innovation Institute's Sensors Summit 2016 website for more information.