BARDA Industry Day 2017
November 7, 2017

-

November 8, 2017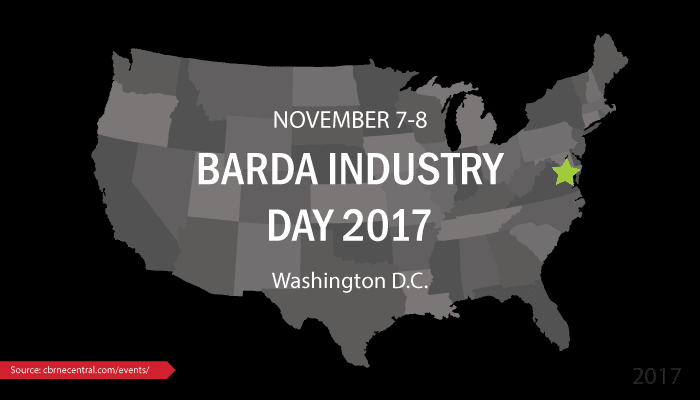 The Biomedical Advanced Research and Development Authority will host the BARDA Industry Day 2017 event on November 7-8, 2017 in Washington D.C.
The event offers participants opportunities to learn about U.S. Government medical countermeasure requirements, interact with BARDA staff, and network with private sector colleagues working in this space.
BARDA supports the advanced research & development, manufacturing, acquisition, and stockpiling of medical countermeasures against chemical, biological, radiological, and nuclear (CBRN) threats, pandemic influenza, and emerging infectious diseases.
Highlighted conference topics include:
Vaccines, Antitoxins and Antivirals
Radiological and Nuclear MCMs
Chemical MCMs
Thermal Burns
Biodosimetry and other CBRN Diagnostics
Pandemic Vaccine Development and Stockpiling
Influenza Diagnostics
Design and Development of Next Generation Pandemic Influenza Vaccines
Rapid Response Vaccines and Therapeutic Platforms
Modeling to Predict Infectious Diseases
Innovations in Clinical Trial Design for Emergency MCMs
Developing Nonclinical Models with Partners
Repurposing MCMs to Address Chemical Threat Pulmonary Injury
Emergency Use Authorizations and Pre-Authorizations for MCMs
DoD/Collaborating on MCM Priorities
BARDA/Success in Developing Therapeutic MCMs: Case study
CIADMs: Capabilities and How to Access Services
Please visit the Medical Countermeasures BARDA Industry Day website for more information and registration.