Biothreats 2018 – American Society for Microbiology
February 12, 2018

-

February 14, 2018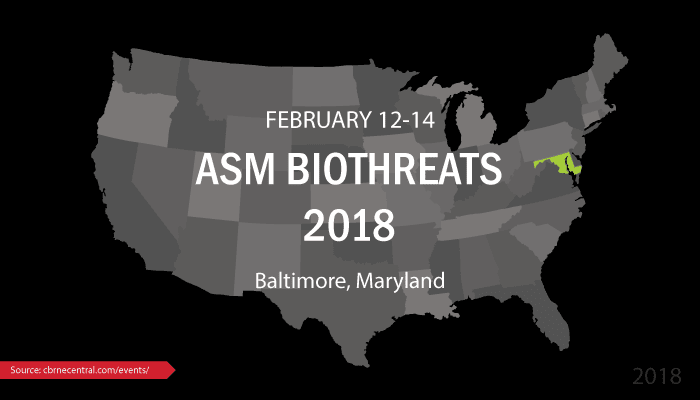 The ASM Biothreats 2018 meeting will take place February 12-14, 2018 in Baltimore, Maryland.
Hosted by the American Society for Microbiology, the event will address pressing issues and relevant research in these broad categories:
Viral Agents
Bacterial Agents
Fungal Agents
Diagnostics
Environmental Detection
Information and Genomics
Therapeutics
Vaccines
Immune Response
Decontamination, Biosafety, and Containment
Highlighted session topics include:
Exploring the Future of Biodefense in the U.S. Biological Threat Reduction
The International Landscape of Biodefense: New Terrain
Rapid Development and Deployment of Countermeasures
Wearable Technology for Population Health Assessment
Select Agent Toxins: Finding, Dissecting, and use as Human Therapies
Artificial Intelligence for Biosurveillance
Platform Technologies to Speed Biothreat Medical Countermeasure Development
Microbial Forensics: Beyond the Select Agents List
Please visit ASM Biothreats 2018 website for more information and registration.